You are visiting from the USA, Canada or Mexico. Visit qvest.us for our US-related Content!

Emotional experience instead of mere operation
Great product, average usability? This can have consequences, because in the digital age, it is no longer just price, functionality and availability that determine the success of a product or brand. One thing is clearly certain: Positive experiences when using a product and good usability across the board ensure a high level of user satisfaction and are therefore key factors in a successful product strategy.
Good user experience leads to excited users and successful products
The Qvest User Experience (UX) teams have an eye for the big picture and consistently take the user's perspective. In the course of the user-centered design process, this is directly incorporated into product development. Using established methodologies, a deeper understanding of users, their expectations and goals is developed to plan all aspects of the user experience. The result is user-friendly and efficient applications that are part of holistic and, above all, seamless brand and product experiences.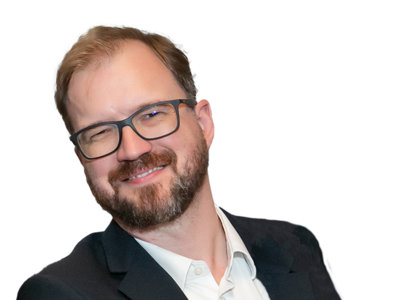 Prof. Oliver Wrede Head of Concept & Design at dimensional, a Qvest Company
We bring together the strategic requirements of our customers with the needs of the users. We translate these into products that are easy to use – and that alone provides a positive experience.
Teams with expertise, structure, and flexibility
The Qvest UX teams consist of conceptual designers, user interface and user experience designers, and user research consultants, and have many years of experience in all areas of user-centered conception and design, as well as user research. The teams in particular have extensive knowledge in the design of user experiences and user interfaces, especially for complex software applications such as DAM/MAM systems or cloud and playout solutions. The UX experts at Qvest are familiar with all accessibility requirements and design applications according to the applicable standards (including WCAG, EN 301 549, and BITV).
In the user-centered design process, information is gradually condensed into a concrete design solution.
Focus on the essentials
The respective Qvest project teams are assembled across disciplines from UX experts, project managers, and strategic and technical consultants to ensure forward-thinking and efficient product development and support.
Product and brand strategy
The teams help customers create successful digital products. They analyze the market and the requirements, ask the relevant questions, and work with the customer to develop future-proof and feasible strategies that can meet the challenges of digitization. As a strategic partner, Qvest teams help the business become customer-centric and transform successfully.

User research
Uncovering what users really want and what they don't – that's always the focus for Qvest's experts. They involve real users of the relevant application directly in product development, gaining important insights to improve usability and the user experience. The UX teams use a variety of research methods (like online surveys, A/B tests, usability tests, in-depth interviews, card sorting), which precisely match with the objective of the research.

User Experience design
The expert UX teams design applications that users find intuitive and enjoy using. They focus on user-centricity and use a proven set of methods that are individually tailored to the product being developed, the project, and the customer. User and customer requirements are thus translated confidently into user-friendly applications and appealing designs, even for demanding tasks. Established methodological steps to plan user guidance include the creation of personas, use cases, user experience maps, customer journeys, site structure maps, click flows, or even wireframes.

Interface design
The teams design custom user interfaces that are easy to use and efficient. By creating consistent, organizing design systems based on industry-recognized and proven usability criteria, a high level of usability and conformity to expectations in user interfaces is established. This is supplemented by documenting steps such as technical requirement and functional specifications, catalogs of requirements, and functional and design specifications in order to perfectly prepare the technical implementation process.

Clickdummies and prototyping
Also relevant is the construction of click simulations that bring the product experience to life. This is because interactive prototypes often lead to the next project step more efficiently than static screen designs or requirements documents. Clickdummies are developed with high or low levels of detail and exploration depending on the desired use. If necessary, these can be supplemented with logical behaviors to create a look and feel that is as close to reality as possible and to make product decisions easier.