Starting Up a Winning Culture

Candice Lu
Executive Vice President
Discover how the OCAI methodology gives more insights to the modern enterprise
Culture is a key element of our groundwork. We always envisioned a company where the culture wouldn't just compel productivity and expedite project wins, but create a foundation that would motivate people to get to know each other better—the baseline for being open and vulnerable in order to build trust and loyalty. And it worked.
As team members joined, they consistently expressed how much they loved the culture at Qvest. In 2016 and 2018, we were certified as a Great Place to Work®, and were given a "Best Workplaces" award for Recent College Graduates as well.
Still, we struggled with how to put our culture into words. In order to permanently embed culture in our company's mission, attract top talent, and scale up, we needed to know how to define, articulate, and evolve it. To help us both audit and refine the concept of our culture, we turned to a tool called the Organizational Culture Assessment Instrument (OCAI).
Organizational Culture Assessment Instrument
The Organizational Culture Assessment Instrument (OCAI) is a tool, developed by American professors and authors Kim S. Cameron and Robert E. Quinn. It's based on a framework called the Competing Values Framework (CVF), which maps cultural stance based on two dimensions, each with opposing polarities:
ORGANIZATIONAL FOCUS:
whether a company leans more toward internal focusand integration (work style and company values) or external focus and differentiation (the outside world, clients, and market)

ORGANIZATIONAL PREFERENCES FOR STUCTURE:
whether a company emphasizes flexibility and discretion (where innovation stems from) or stability and control
Where internal focus and integration meet flexibility and discretion, teamwork and collaboration is emphasized (the Clan quadrant). Where external focus and differentiation meet stability and control, a company is more tuned to competing externally (the Market quadrant). Where external focus meets flexibility, Adhocracy (a creative orientation) takes hold. And where stability meets internal focus, the traditional idea of Hierarchy reigns.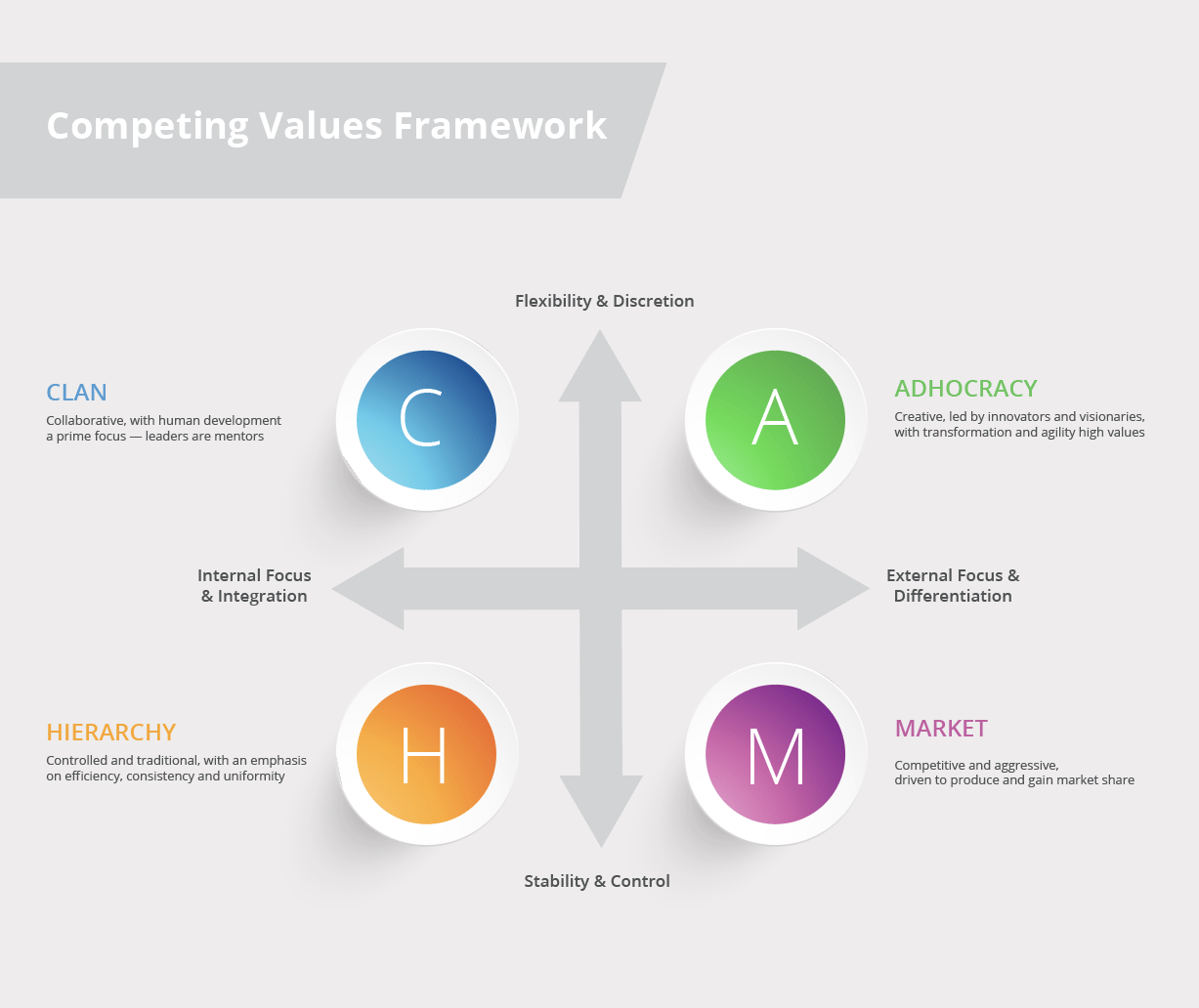 To find a company's location on this framework, authors Quinn and Cameron built out the practical assessment tool OCAI, a survey that asks participants from a company to assess six key dimensions of culture:
Dominant Characteristics
Organizational Leadership
Management of Employees
Organizational Glue
Strategic Emphasis
Criteria of Success
Our Process
Team members complete the survey twice—once to audit the current culture (where an organization is right now) and again to define preferred culture (where they would prefer it to be).
At Qvest.US, we rolled out our first OCAI audit in 2015, just two years after the company was launched. Our methodology was broken down into a few stages.
STEP 1: SURVEY EVERY EMPLOYEE
First, we asked every single employee to rate their current view on culture versus how they'd like to see it in five years. The survey's six questions were based on the six dimensions of company culture, with four possible answers, each based on one of the four value frameworks. Participants were asked to distribute a total of 100 points across those four statements.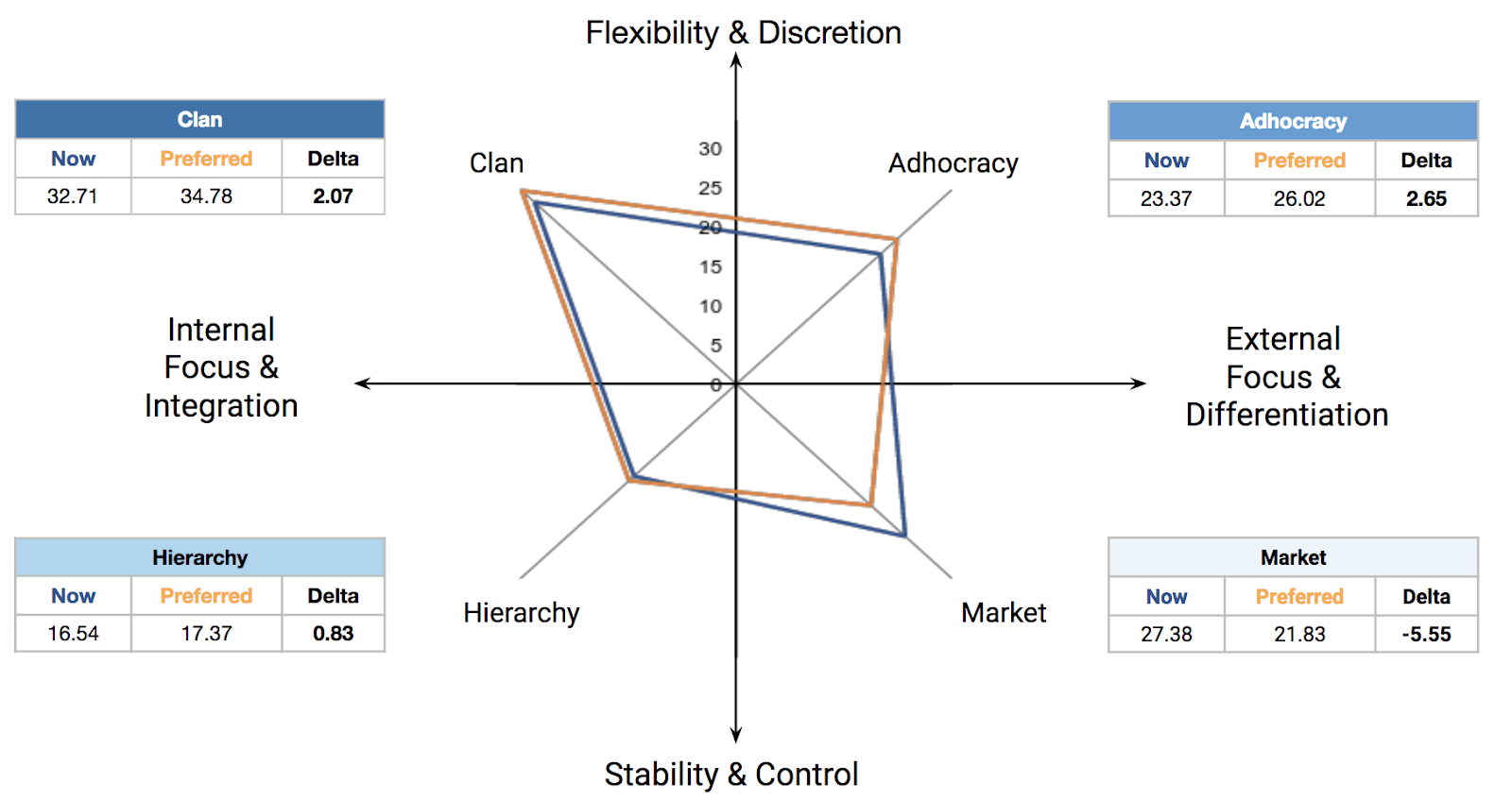 For a fledgling organization founded on tenets of culture, you would expect the audit to reveal little disparity between optimal and actual. Indeed, in our case, core values were intact across the firm, and deltas small.
But while the deltas weren't huge, they were distinct, and provided valuable insight into the variations in our culture.
For instance, while those in our Austin office expressed an almost 10 percent desire to decrease the emphasis on the Market quadrant, that number was only 2 to 3 percent in our LA and NY offices.This was illuminating for us, because it clarified that while it's important a company's core values are consistent companywide, there's room for flexibility depending on various teams' needs.
STEP 2: GATHER QUALITATIVE FEEDBACK
As a next step, we took the quantitative information we gained from the survey results and conducted handpicked interviews to provide qualitative context. We surveyed a subset of Qvest.US employees and leaders across demographics, roles, and tenure with the company. The questions included things like "What words do you think of when you hear the phrase Qvest.US culture?" and "What drivers do you believe attribute to this culture?"
The top-level takeaways were positive. People felt like we were truly a "work family," focused on the right values and supporting each other. Qvest.Us employees expressed how much they appreciate that company leaders truly embody the desired culture.
Overall, our culture leans heaviest into the Clan quadrant, and collectively, we want to see Clan emphasized even more. We also ascertained that Hierarchy will become more important as we grow from a small company into a larger organization with more offices and need for delineation of policies and processes.
STEP 3: CREATE A TACTICAL PLAN OF ACTION
We took all of this data—both quantitative and qualitative—to our annual meeting, shared it globally within the organization, and broke into small focus groups to think about how to create change based on the results. The final step was to take this brainstormed list to our partners, who ultimately made leadership decisions on which activities to prioritize.
A few of the ideas we put into action included:
Clan – Conduct more cross-team get-togethers in our New York and Los Angeles offices
Adhocracy – Set a goal to partner with new, innovative tech vendors
Market – Provide clarity and transparency around strategy
Hierarchy – Further elucidate our methodology and solidify project onboarding processes
Conducting the OCAI audit gave us a language for discussing and addressing culture holistically and a tactical plan for making incremental improvements. Once you've determined the gap between where your culture is and where you want it to be, a tactical approach to refining tasks, processes, and methodologies naturally unfolds.
It's important to note that OCAI is a snapshot of a certain point in time, not a report card meant to congratulate or condemn your organization. After all, there is never any such thing as "wrong" or "right" culture, just the culture that's the best fit for your particular organization.
---