Published 14. September 2021
Rotor Film increases competitiveness thanks to dual operator installation from Qvest
In the business of cinema films and TV production, brilliant resolutions and visual effects are no longer the only things that matter. Immersive audio formats such as Dolby Atmos are also a prerequisite today for movie fans and series addicts to immerse themselves in completely new worlds of experience. But behind the spectacular sound backdrops with three-dimensional sound worlds lies a lot of expertise from sound designers and mixing sound masters - as well as professional equipment.
This is also the case at the Babelsberg site of Rotor Film GmbH. There, a dual-operator installation deployed by Qvest with two Avid S6 mixing consoles ensures a sound that offers the same top level as major Hollywood studios.
Immersive audio production
In film and television production, customer expectations and increasing cost pressures are making for a busier time than ever before: "The demands on image and sound today are at an extraordinarily high level. Just like the time pressure we are under," says Martin Frühmorgen, Managing Director of Rotor Film GmbH from Potsdam, which was founded in 2010. These words might sound familiar to many colleagues from the entertainment industry. The interest in immersive audio experiences with sound effects that can be felt almost up close and three-dimensional sound - but above all the continuing boom in streaming services from the likes of Amazon, Apple, Disney, or Netflix - are ensuring full order books in post-production.
"Productions are getting bigger and bigger, workflows more and more modern. We are having to invest in new technologies to keep up with this development and remain competitive," says Martin Frühmorgen, from experience. Today, he says, it is indispensable to continuously deal with new video and audio technologies such as 4K, IMAX, Dolby Vision, and modern audio formats such as Dolby Atmos. The Rotor Film manager: "All this leads to extremely high time pressure."
Rotor Film in our video story
Martin Frühmorgen, Managing Director Rotor Film, Gregor Bonse, Creative Lead & Re-recording Mixer Rotor Film, and Jonathan Baker, Solution Architect Qvest, explain the project challenges and give insights on the future capabilities by using a dual operartor audio console for immersive audio productions. The video story is subtitled in English for people with hearing impairment and visitors from outside the german-speaking region.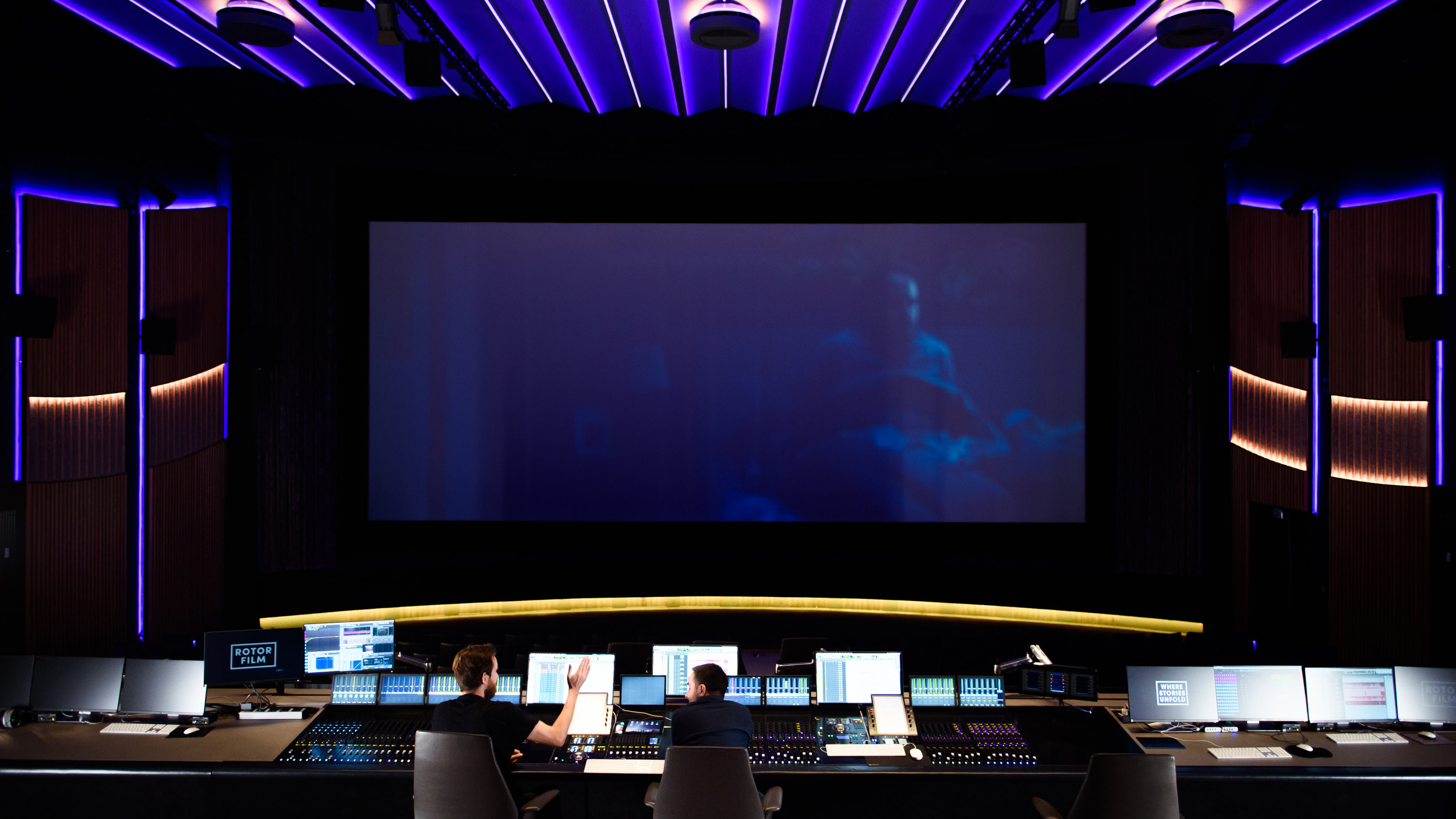 Video Story
Watch how Rotor increases its creativity with a perfect workflow
US-style dual operator console
Reasons enough for the Rotor Film team to look for a system integrator for the technical challenges. "We needed a partner we could rely on, who could keep up with our pace and who knew the technologies in our industry," recalls Frühmorgen of a respective market evaluation in 2019. Specifically, at that time it was a project to expand a mixing console with an Avid S6 into a "multi-user version" for mixing console masters. The goal was to first expand the largest studio of the post-production company in Potsdam to a dual-operator station, following the example of US companies. To do this, the Rotor Film team found the ideal partner in Qvest: "We come from a content background, and Qvest is familiar with the workflows and technologies. So, we didn't have to explain our sometimes highly complex processes first."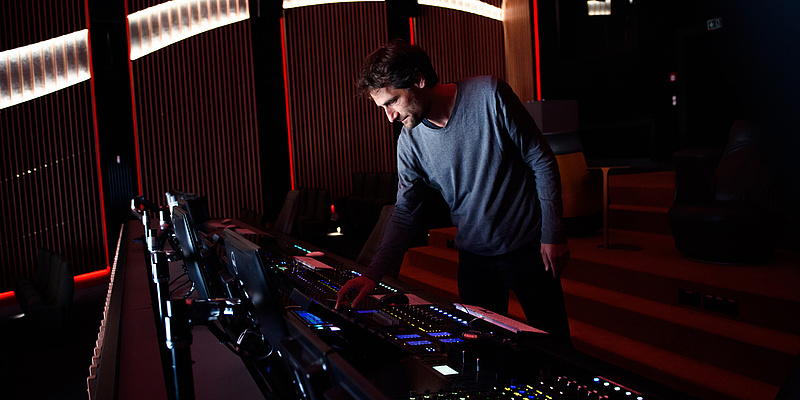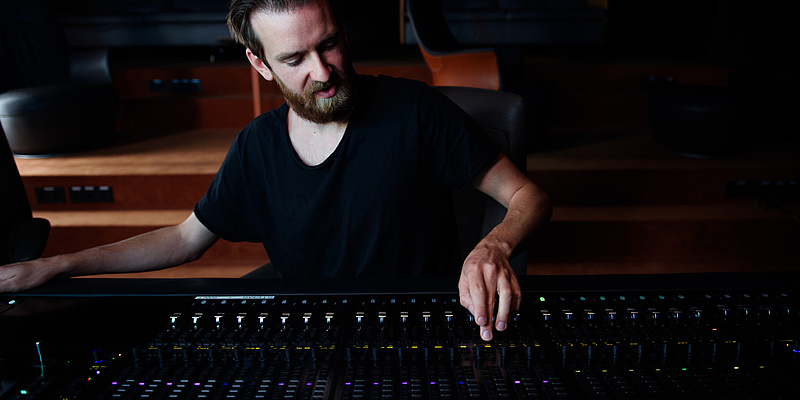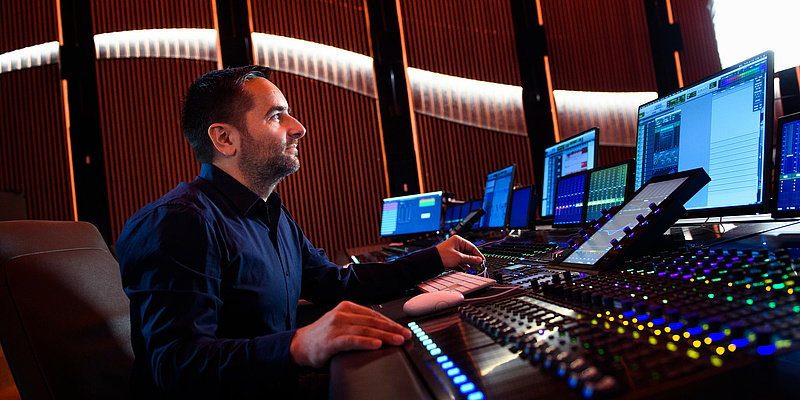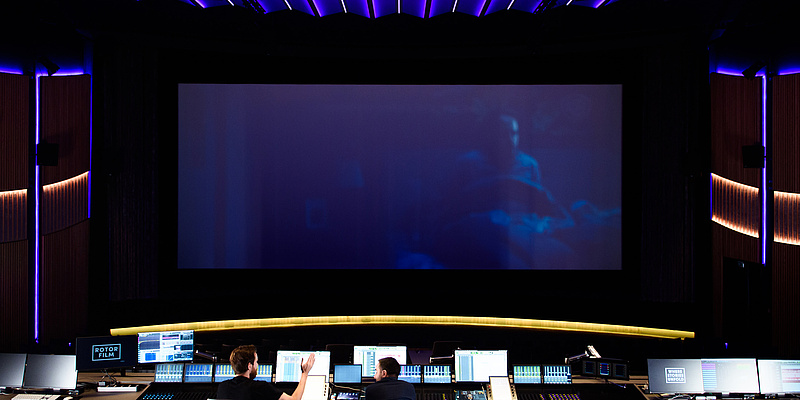 Challenge for the network
So, it's no surprise that for Jonathan Baker, Solutions Architect at Qvest, the time aspect was key when it came to implementing the two new Avid S6 consoles into a dual-operator unit in 2020: "The biggest challenge for us was that it had to be quick and uncomplicated and the downtime had to be as short as possible," says Baker. Such dual-operator controls with S6 consoles are still rare worldwide. This also poses a challenge for network technology because, among other things, operators have to define which module receives which signal when, and how much traffic should be sent where.
Gregor Bonse, Creative Lead & Re-recording Mixer at Rotor Film, lists the specific practical advantages of the Avid S6 mixing console: With the console, mixing engineers are now able to "do things that you used to be able to do with Harrison or DFC". Whereas in the past he had to rely on signal levels, for example, and was thus unable to orientate himself precisely, with the S6 it is possible to recognise sounds, effects or spoken sentences by actors before they are fed into the mixing console. "You can even see whether a short or long sentence follows next," says Bonse. Another example of the innovations with the S6 is the possibility to subdivide sounds, effects, pieces of music or individual instruments into individual VCA groups and unfold them on the console. "That was virtually impossible in the past," says Bonse, extolling the virtues of this feature of the new system.
The sound expert is enthusiastic about the console's individual configuration options as implemented by Qvest. "I can work with the S6 directly on the channel and go through Dynamic Processing or work via touch control in the centre section."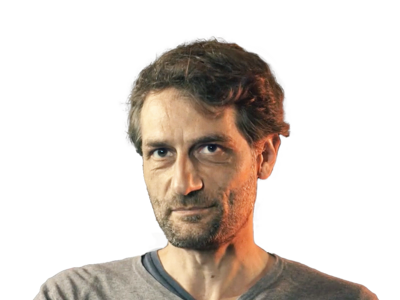 Martin Frühmorgen Managing Director at Rotor Film
We needed a partner we could rely on, who could keep up with our pace and who knew the technologies in our industry.
The most modern studio in Europe
Martin Frühmorgen summarises with superlatives after the cooperation with Qvest: "With the new implementations, we now have a mixing and grading studio that is certainly the most modern in all of Europe and one of the few large Dolby Atmos studios in Germany." The great strategic advantage is that Rotor Film is now in a position to quickly adapt its studios D, E and F to individual orders and projects at any time thanks to the modular concept. Modules can be exchanged, consoles can be reduced or enlarged, and individual needs of mixing engineers can be taken into account.
This is primarily relevant for competition with international market companions, since Babelsberg handles international productions as well as national productions. To achieve this, modern mixing consoles must be able to be set up efficiently as required. According to the Managing Director of Rotor Film GmbH, this is especially true when mixers travel from abroad to be able to work in Babelsberg: "These experts are used to professional studios that you find in London or the US. With our studio, we offer absolute production security and state-of-the-art technological equipment, even for international productions."
The fact that, thanks to Qvest, the 64-channel-wide mixing console can now be split into two consoles to allow dual working supports external project work. Thus, thanks to the project implementation with Qvest, Rotor Film is now able to exchange individual modules with each other during ongoing operation. Or, as Martin Frühmorgen puts it: "We are on par with the big studios in England or the US."
Contact
Let's talk
Get in touch with our experts.
---