Data & Analytics
Data Strategy | Data Management | Analytics and Visualizations
Unlock the power of your data
We are dedicated to helping clients leverage cutting-edge technology for improved efficiency and quality decision-making. Our teams partner with clients to identify their unique Data & Analytics needs and deliver solutions that drive results.
Our vision for next-generation analytics platforms is centered around loading, centralizing, and transforming data into cloud-based databases such as Snowflake, BigQuery, Databricks, and similar. We use modern data visualization tools to produce actionable analytics that help clients make informed decisions.
Our focus technologies are oriented around this next-generation data stack, and we have a wide range of additional technologies that we can assist with, which are commonly present in enterprises.
We help you unlock the power of your data and gain valuable insights that will drive your business forward in the competitive media and entertainment landscape.
Value-Driven Critical Thinking
Josh Andrews | Senior Vice President, Qvest.US
With future-forward technology, we help our clients improve the efficiency and quality of their decision-making. Grow your business with the intelligence offered by in-depth visualization tools, and the infrastructure needed to link critical data to a single source of truth.
Our key services
Data strategy
We drive businesses forward with evaluation, assessment, and profiling of current state processes, data, data governance, architecture, and solutions. Therefore, we provide proposed architectures and cost engineering to allow for implementations of analytics platforms and improved business processes.
Data management
We create cloud-based analytics platforms and the loading, transformation, modeling, cleaning, and conforming of business data assets using the ever-expanding capabilities of the underlying platforms, automated testing, data quality monitoring and processes.
Analytics and visualizations
Our expertise lies in crafting compelling data stories through the creation of interactive dashboards, insightful metrics, and visually appealing visualizations. By leveraging predictive analytics and working with clean and transformed data, we provide comprehensive insights for your organization.
We support your journey towards an organizational analytics platform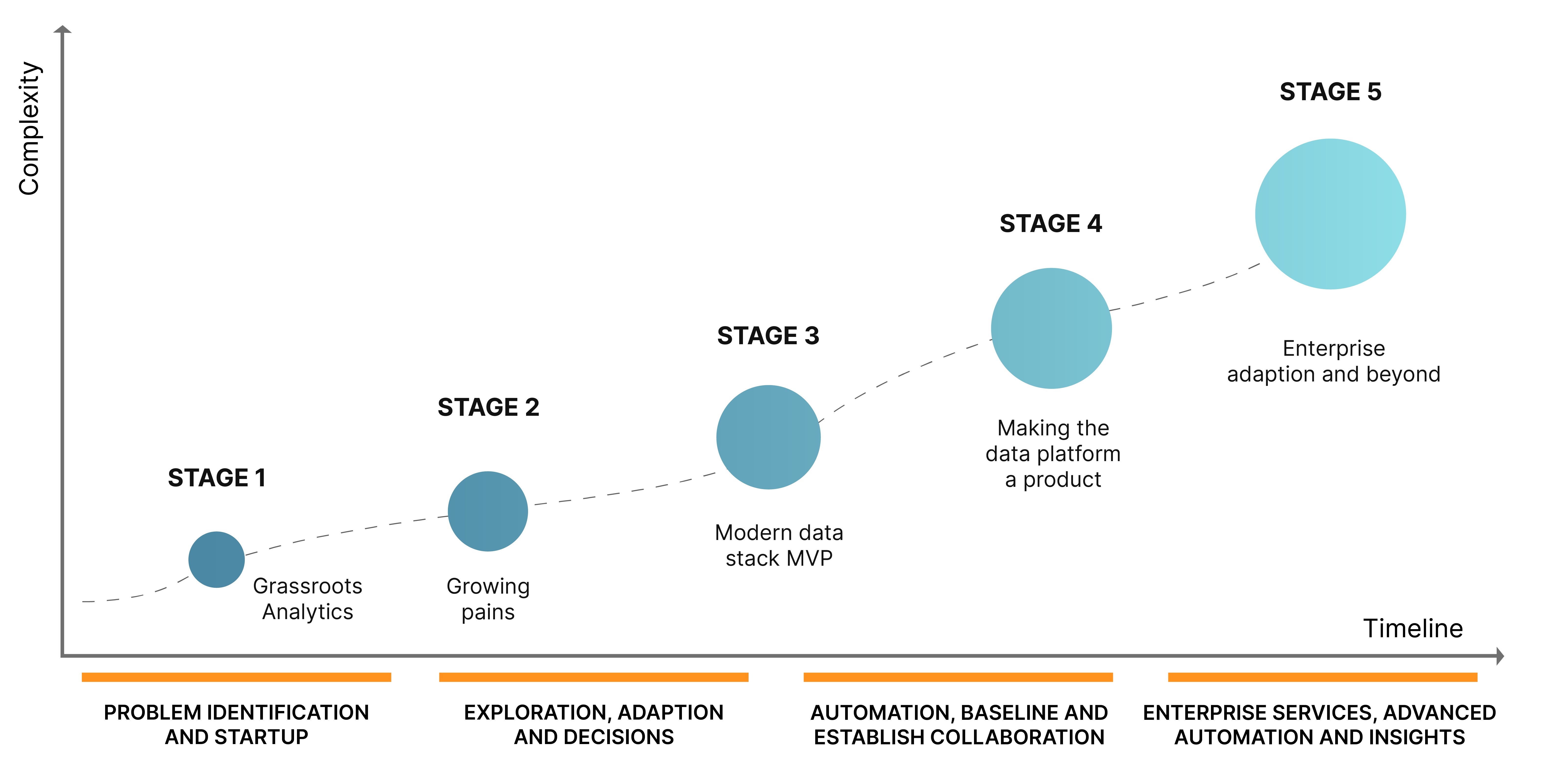 What sets us apart – your benefits
Modern data stack enablement
Companies are continuing to move towards aggregating data in centralized cloud data warehousing platforms. Our D&A practice enables them to – within these platforms – conduct data transformation, testing and automation, unify the results, and layer visualization tools on top. Additionally, we facilitate the use of the learnings from this data to more efficiently drive operational systems downstream.
Analytics-Minded Organizational Change
Implementing an analytics platform is not just about an analytics team, it's about widespread organizational change. We set our clients up for success implementing methodologies that treat analytics platform implementations as what they are – large complex software projects that require current state analysis, future state planning, buy-in, and training across organizations.
Resources who understand business
Analytics and reporting solutions can be constructed and iterated upon much more rapidly and efficiently with resources who both understand the technical and business aspects of the solution. Traditional software development methods which separate business analysts from developers do not function well or scale. Our team concentrates both in the same individuals.
Vendor Relationships
As the largest media consultancy, we are well known to product vendors and are able to leverage existing and future projects to drive better behaviors and discounts to your advantage.
Contact
Let's talk
Get in touch with our experts.