Everything's so wonderfully colorful here
Qvest implements state-of-the-art and powerful color grading suite for SWR
Razor-sharp images, brilliant colors: HD quality television offers viewers exceptional experiences – provided the original material is suitable. An important step in post-production is color grading, which makes it possible to correct material recorded under difficult conditions, especially in editorial productions, and to make it broadcast-compliant. This is what happens at the regional public broadcaster Südwestrundfunk (SWR), where Qvest has deployed a color correction suite with five workstations. The in-house expertise is not only used for journalistic formats, but also for flagship ARD productions such as the long-running series 'Tatort'. Here, the colorists decide on colors, contrast, and brightness – and thus the look of a film.
Convenient, intuitive, and fail-safe color grading
SWR had set itself the goal of comprehensively modernizing its existing technical infrastructure for professional color correction. Hardware and software components need to be powerful so that the broadcaster's colorists can carry out all work steps related to color correction conveniently, intuitively and fail-safe. The requirements were correspondingly high. Marc Weckenmann, responsible Project Manager at SWR, says: "When renewing our color correction facilities in Baden-Baden, our top priority was implementing best-in-class infrastructure that included innovative technologies and workflows."
Performance for the highest requirements
The core technological component therefore had to be the renowned high-end Baselight system from color grading specialists Filmlight. "Apart from Baselight, no other color grading system was able to fully cover the requirements defined in the tender," says Jannik Altgen, Solutions Architect at Qvest. "On this basis, as main contractor we have created a color correction environment into which the products selected according to our best-of-breed principle fit seamlessly."
The new IT architecture for the color grading suite was established with a 100 Gbit/s network and 720 TB (terabytes) of central storage at its core. With 10 GB/s read and 6 GB/s write speeds setting the pace, there is more than enough memory capacity on offer, however stringent the network infrastructure requirements become.
Qvest has set up a total of five workstations: two for grading, two for assistants and one for an administrator. Each of the two grading workstations comes with a Baselight 2 system and a Blackboard 2 panel. The suites use Sony Class 1 displays in the BVM-X300 V2 and HX-310 model ranges for color-critical image assessment. All workstations also allow color correction with DPX sequences at 2160p/50 resolution.
Highly flexible workstations
The workstations are integrated into the infrastructure with a 50 Gbit/s network and can handle the data transfer of uncompressed video signals in Ultra High Definition (UHD) at 50p. The 4K KVM system with tradeswitching from Guntermann & Drunck (G&D) is a key component here. Each of the workstations is equipped with up to three KVM consoles. The high-performance workstations, on the other hand, have been moved to an air-conditioned server room. As a result, the entire team works under much better conditions – at highly flexible workstations with low noise, fewer heat emissions, and more space. The colorists have full access to the computers – in real time and at full performance. Jannik Altgen: "Short cable runs enable high bandwidth. This allows us to achieve smooth playback of 4K DCPs at 50 full frames per second in the system. Moreover, the KVM creates simple support and administration workflows: Each computer can be controlled and operated via mouse and keyboard from any workstation in the suite. This means the individual workstations can be controlled from one of the other desks – that's also something quite unusual in post-production environments."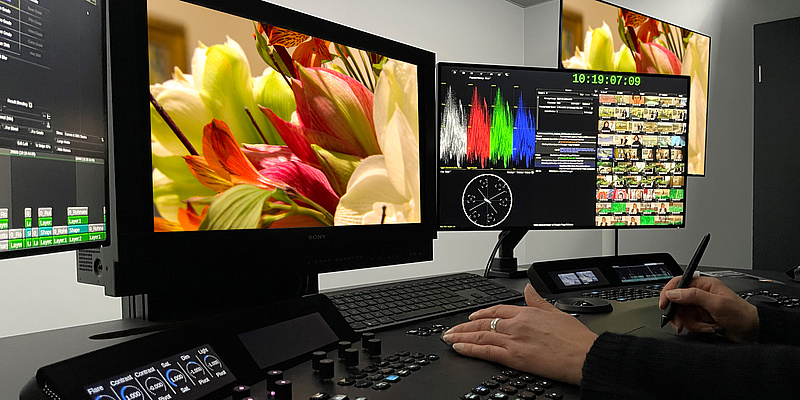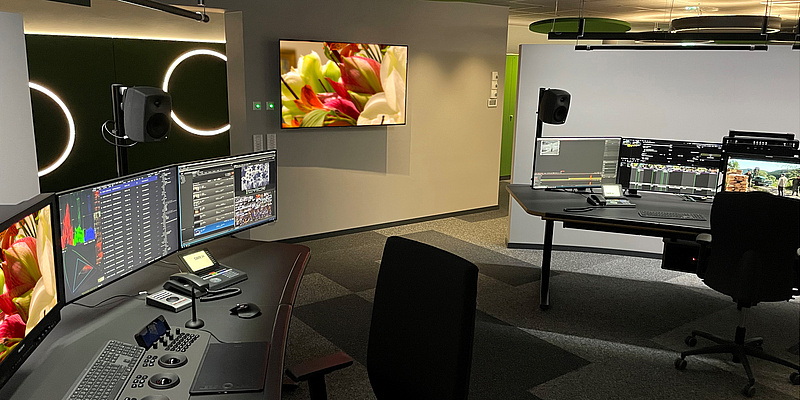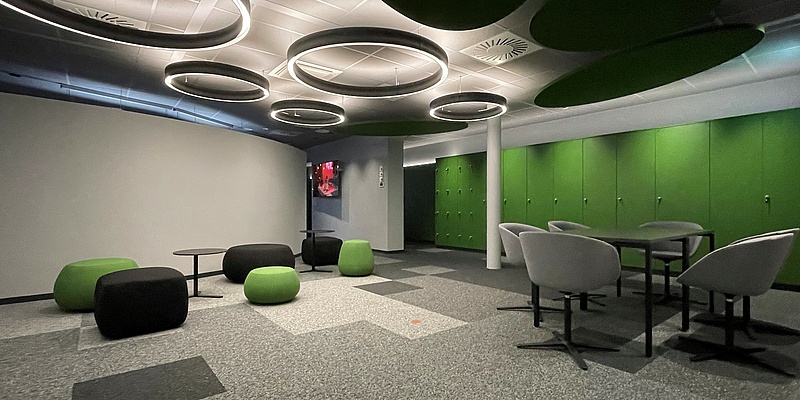 Cooperation based on partnership
The entire installation was carried out under difficult conditions on account of the pandemic. "Particular praise goes to the installers on site. They undertook hard physical work for many hours at a time – while wearing masks, of course. That did not make it any easier." The pandemic also led to delivery delays. At first, the KVM systems had to be put into operation without the monitors intended for them. The integration of the Windows and Linux clients, as well as the fine-tuning of monitor, KVM and client was made much more difficult. Daniel Erpilev, Solutions Architect at Qvest: "Both caused a considerable amount of extra work. Thanks to intensive cooperation with G&D, Filmlight and SWR, however, the installation and set-up went absolutely according to plan." All workstations in the color correction suite have been equipped with custom furniture and consoles to allow image assessment under optimum ergonomic and technical conditions. Desks and panels are infinitely height adjustable. The sideboards have also been prepared to connect ingest peripheral equipment.
"Also ideally equipped for the future."
The implementation marks a new benchmark in color grading – especially in terms of the level of integration and the chosen hardware and software. Marc Weckenmann from SWR says: "Collaborating on the project work with experts from Qvest and Filmlight helped us achieve our ambitious goals. Our colorists can now take color correction to a whole new level and offer viewers an exceptionally impressive color experience on screen. This means the team now has the technical capabilities to handle all current and future productions."
Contact
Let's talk
Get in touch with our experts.
---