You are visiting from the USA, Canada or Mexico. Visit qvest.us for our US-related Content!

Migration during ongoing broadcasting operation
Published 16. September 2021
How Nine Network sets standards with new Sydney headquarters
With the proliferation of social media, smartphones and the many new ways to consume media, the media industry in Australia has also changed fundamentally and continues to evolve at a rapid pace. Nine Network responded to this with the technological restructuring of its headquarters in Sydney.
In the process, the media company faced several challenges: The move to a new production and broadcast center during ongoing operations, the implementation of a completely new postproduction and newsroom environment, the simultaneous introduction of efficient and secure workflows, as well as more than 800 training sessions for around 600 employees to accompany the project were just some of them.
Major upgrade for Australia's largest TV broadcaster
Just like Qvest, Nine Network has always set technological benchmarks: Even before the official switch to color television in March 1975, Channel Nine was the first national television station in Australia. Since then, "Nine" - launched in September 1956 under the name TCN-9 – has become the station with the highest ratings. Meanwhile, Nine Network is the largest media company in the country. Qvest provided consulting and systems integration services for the technological transformation of Australia's largest television broadcaster.
Facing this large-scale project and the extensive spectrum of tasks, Nine Network decided to expand its human resources with the assistance of Qvest. Qvest supported Nine Network from the first project phase as a consultant, systems architect and ICT integrator with its experience in digital transformation processes and change management gained from numerous international projects. The Qvest Team provided advice on risk analysis, conception and system selection, and designed the technical process. In addition, Qvest specialists took over change and training management at the Australian broadcaster.
For Geoff Sparke, Director of Broadcast Operations at Nine Network, Qvest's holistic expertise in implementing complex projects was crucial in the decision-making process: "This project was an incredible opportunity for Nine, as we were essentially rebuilding an entire television station from scratch. For the future of our business, it was especially important for us to leave nothing to chance when selecting vendors and technologies."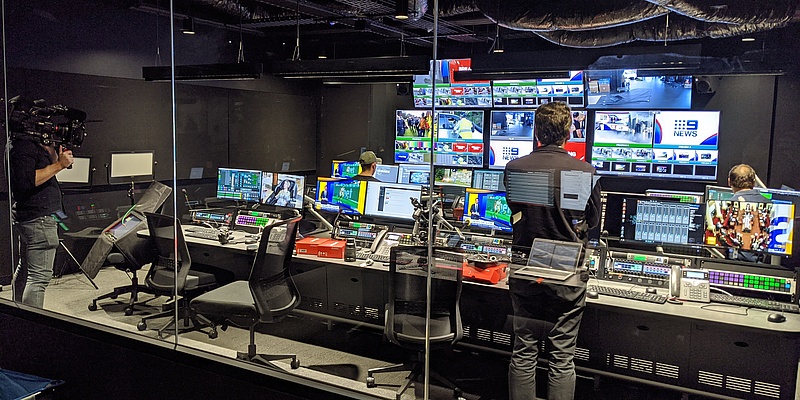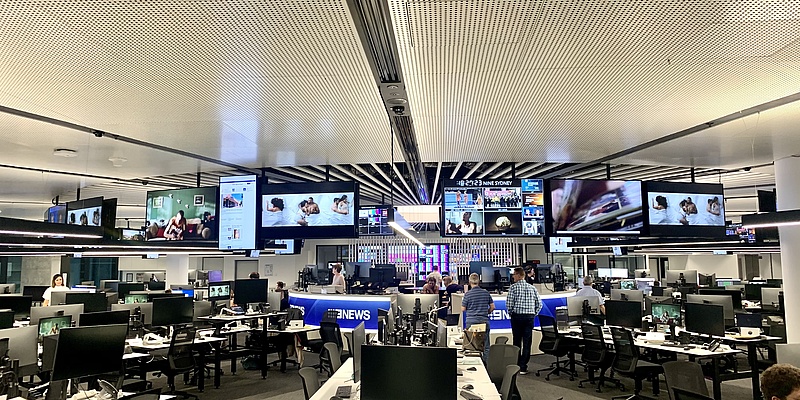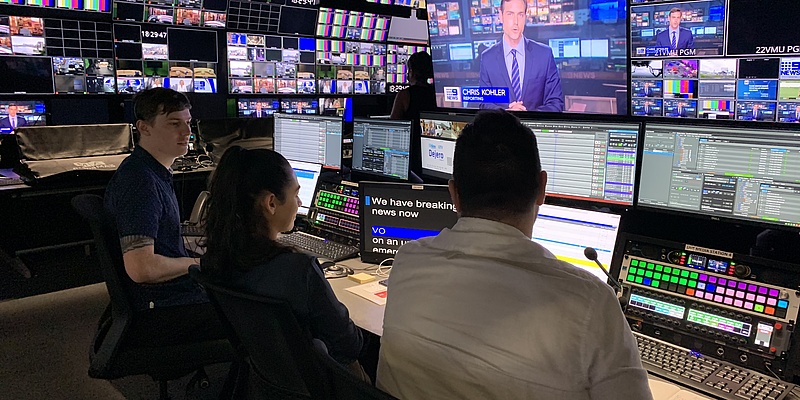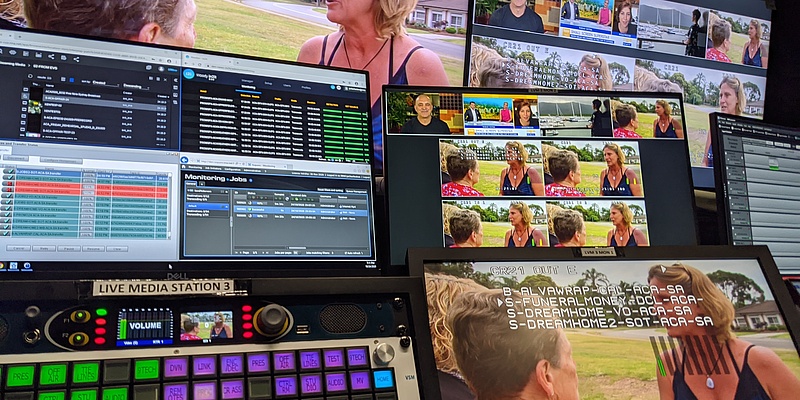 Teamwork for comprehensive transformation process
The collaboration between Nine Network and Qvest for the station's move and the company's transformation process included a thorough initial project review. This included the preparation of the budget development, workflow analyses, and overall planning for the new newsroom, sports and promo production as well as the post-production. Qvest was also responsible for consulting technological approaches like establishing the transition from SDI to an All-IP infrastructure based on the SMPTE ST 2110 standard, seeking out the best vendors for key areas of broadcast operations such as on-air graphics, newsroom systems, post-production, network and infrastructure, and live studio elements.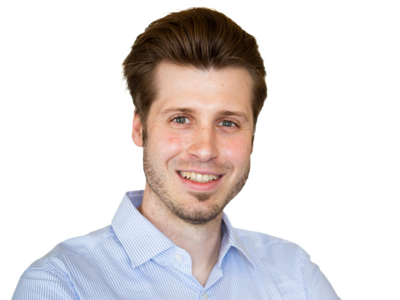 Konstantin Knauf Managing Director
With our experience from many similar projects, we were able to reliably develop a project approach, structure, and budget framework tailored to Nine. The new building provided the ideal conditions for a renewal and tighter integration of the production environment along the media supply chain. Our expertise in the interoperability of standard components from different manufacturers for IP-based video networks was critical to the economics of a transparent open book approach.
Fast news and postproduction workflow
Nine Network's new Sydney headquarters has 36 dedicated craft editing suites and over 60 more powerful editor workstations equipped with Avid Media Composer. Nine Network utilizes two production asset management systems (PAMs) for both, the news and post-production departments. In order to transfer material from one system to the other and use content seamlessly , the PAM media is stored in the Avid NEXIS storage system. Editors and copy editors can access the centralized and integrated Media Asset Management system (MAM) from both the newsroom and post-production departments.
For the new post-production workflow, content is ingested into the central MAM and subsequently forwarded on to the PAM. With the MAM as the central ingest point, production efficiency improves enormously: It saves storage space and unnecessary media transfers between the systems. News ingest and live production uses server technology from EVS, which directly integrates into the Avid production environment for fast, secure production and turnaround. Since most sporting events are broadcast live, ingest is done directly into the EVS live production servers. Files from external storage media is ingested into the PAM via Woody. Data from external sources such as news agency files will be processed automatically where possible. Manual ingest is implemented via Woody in2it, an intelligent multi-format and indexing tool. Woody tools enhance and simplify the user's workflow, adding easy to use features that are directly integrated into the Avid system environment.
An important new newsroom feature is the HTML5-based Avid plugin for Avid MediaCentral | Cloud UX, which allows MediaCentral to communicate directly with ENPS or any other HTML5-based newsroom software. Editors can use it to browse and edit clips. A key functionality is the ability to create a placeholder in the ENPS rundown as a Media Object Server (MOS) element and send the sequence to the playout server. On a further note, the Avid MediaCentral publisher app enables fast and efficient publication to all of Channel Nine's social media channels and to the VMS, allowing the broadcaster to be online with news in no time.
Efficient and networked collaboration across the continent
The new post-production and news workflows also significantly improve Channel Nine's collaboration capabilities. Channel Nine's parliamentary office in Canberra, nearly 300 kilometers away, becomes a de facto part of the newsroom in Sydney. Editors in the capital can directly access and remotely edit all media content stored in Sydney via Avid MediaCentral.
Despite the challenges posed by different time zones as well as COVID-19-related travel and logistics constrains, all project milestones were met thanks to the close collaboration between the Nine Network and Qvest project teams and all partners and suppliers involved. The design as well as the workshop and training phase were also mostly implemented remotely which allowed for flexible cooperation between Nine Network and Qvest. Training activities ran in parallel, supported by the Avid Learning Central e-learning and video platform. This proved to be a major benefit in terms of minimizing travel expenses and streamlining processes. Overall, despite the challenges posed by the COVID-19 pandemic, Qvest was able to deliver the project with the client on the original schedule – braking ground for a new chapter in the Nine Network success story of Australian television.
Contact
Let's talk
Get in touch with our experts.
---