Modern technology behind the scenes
Published 27. September 2021
Schauspielhaus Zürich ready for the future thanks to modernized stage management system
Today, more than ever, demanding audio productions require customized solutions. What is needed are systems that are able to grow flexibly and keep pace with creative ideas and impulses. In the theater sector in particular, technology should not only offer practical solutions, but also consciously create artistic freedom through adaptability. As the heart of a theater complex, modern stage management systems must deliver top performance while at the same time being controlled so discreetly that the audience notices virtually nothing about them.
Thanks to the integration of a state-of-the-art efficiency system by SALZBRENNER media, a sister company of Qvest, the traditional Swiss spoken-word theater will be particularly flexible and future-proof, and thus already meet the requirements of tomorrow.
Venerable Swiss theater needs flexibility
With a history stretching back well over 120 years, the Schauspielhaus Zürich is one of the most important venues straight theater in Switzerland. Up to twenty-five different new productions per year and an extensive cast present the team at the Schauspielhaus Zürich, with its five stages, with constantly changing challenges regarding operational safety and functionality of the extensive infrastructure. For this reason, SALZBRENNER media was commissioned back in 2018 with a future-proof modernization of all stage management systems of the two renowned buildings "Pfauen" and "Schiffbau".
Intelligently and innovatively interconnected
After the outdated central technology of both locations had been professionally dismantled and the passive IT network had been professionally checked, the SALZBRENNER media team first upgraded the extensive audio infrastructure to a modern and powerful Dante-based audio-over-IP network. In addition to its excellent ease of use and seamless integration of all relevant audio components, the Dante protocol ensures perfect signal resolution with extremely low latencies. The Layer-3 infrastructure, which can be networked with standard CAT cables, also ensures exemplary technical and functional expandability with regard to future requirements.
For each of the five theater auditoriums, stage manager desks were also specially made to meet the needs of the Schauspielhaus Zürich. For perfect integration of the sound system into the Dante system, the engineers at SALZBRENNER media also developed customized IP loudspeaker modules with an external control unit and remote maintenance option within a tight time frame. A total of 230 of these modules were installed across both venues. This makes it possible to transform analog integrated passive and active loudspeakers into modern playback systems controllable via IP. The combination of control panel and loudspeaker module, which was implemented for the first time in this form and can be flexibly integrated into the infrastructure, offers those responsible at the Schauspielhaus Zürich permanent remote technical monitoring, including a progressive early warning system to prevent unexpected failures or defects. For monitoring purposes, parameter thresholds such as operating temperature, current or voltage can also be set and individual volume control can be performed for each individual space. A power supply for the individual elements via Power-over-Ethernet also rounds off the setup.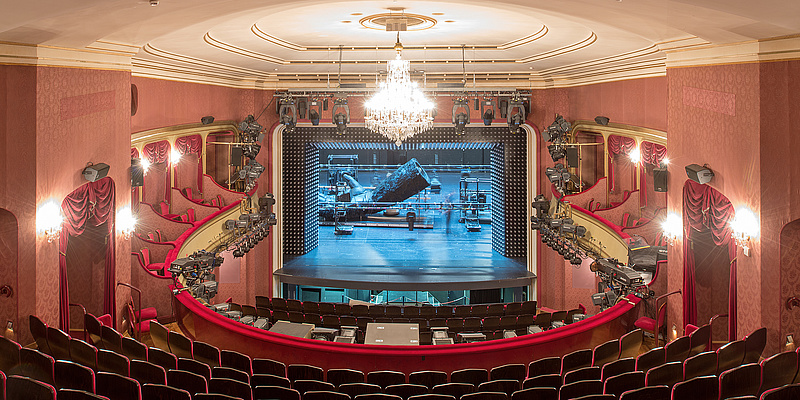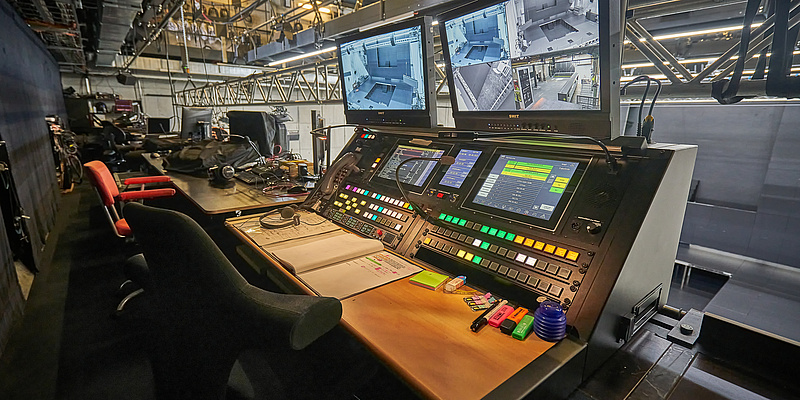 Large, installed stage management console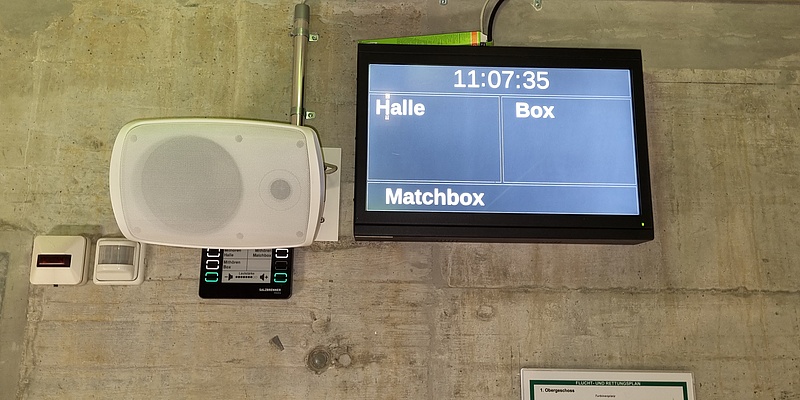 IP loudspeaker with attached control unit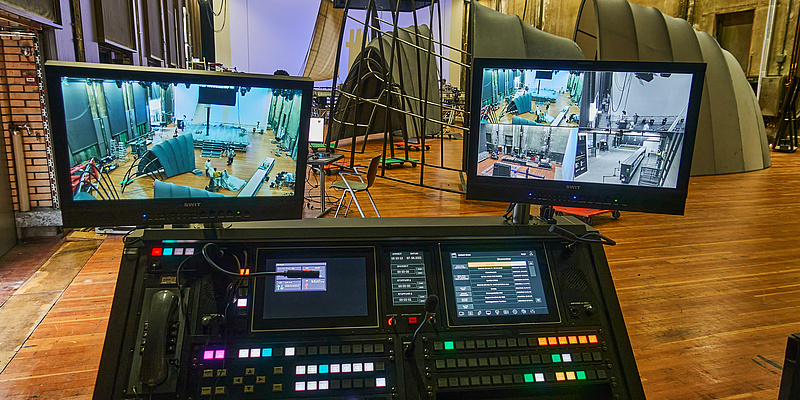 Mobile stage management console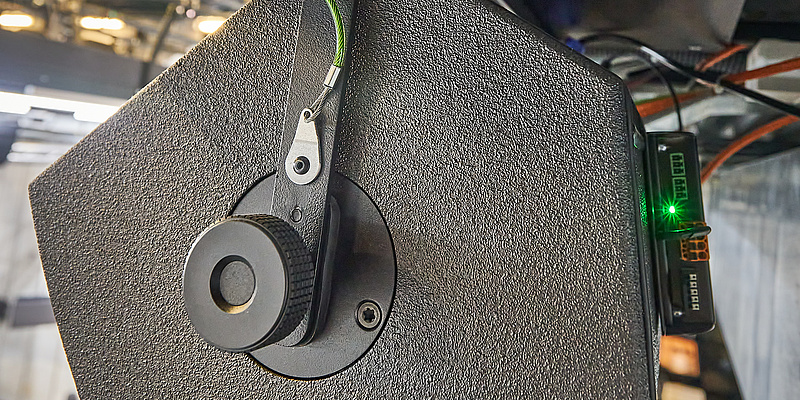 Loudspeaker with attached IP module
Multi-faceted functionality
Modern stage management systems demand maximum networking, mobility, and versatile operability. The integration of wired smart panel intercoms based on a Riedel Artist 128 intercom system, as well as a wireless Bolero extension in combination with a monitoring, mixing and paging matrix designed by SALZBRENNER media, guarantee the Zürich venues both maximum flexibility and first-class access options to audio and video content via touchscreen units. In addition to classic LCD RGB keys, the consoles were also equipped with convenient touch monitors for sequence control and clock functionality, which make operation even more convenient.
The best possible audio quality is ensured by the audio monitoring system with a Dante-compatible NIO xcel audio converter developed by SALZBRENNER media. A total of 21 Cisco and three Luminex switches were installed for the network infrastructure in the "Schiffbau" auditorium, and twelve Cisco switches and one Luminex switch in the "Pfauen" auditorium. The completely newly developed light sign control system based on a PLC from WAGO, combined with a custom-assembled UHF light sign system from Studiotechnik Franz, also meets the highest demands in terms of adaptivity. In terms of video, Panasonic HD cameras with Swit monitors including video routers from BlackMagicDesign round off the installation setup in a coherent and high-quality manner.
The project in the venerable Zürich Playhouse made high demands, especially in terms of performance and practicability. However, through continuous exchange with the customer, the requirements for an automated system supporting the stage manager were met in the best possible way. The continuous feedback from the project partner also helped a lot with the development of SALZBRENNER media's IP speaker modules. With these extensive measures, the tradition-steeped Zürich Schauspielhaus is ideally equipped for future productions.
Contact
Let's talk
Get in touch with our experts.
---