UI & UX Design
Digital Product and Brand Strategy | User Research | User Experience Design | User Interface Design
Delight customers with your products
We specialize in providing top-notch UI & UX design services. Our expertise lies in crafting digital products or services that are not only visually stunning but also offer exceptional user experiences. With our practice, we deliver digital solutions that drive the success of your business.
When we talk about UI & UX, we're referring to the combination of User Experience (UX) Design and User Interface (UI) Design to create user-friendly, engaging, satisfying, and ultimately successful digital solutions.
Our UX Design team understands user interactions through in-depth research, optimizing usability and accessibility. We test, experiment, and iterate based on feedback and data. The UI Design specialists focus on the visual aspects, creating an appealing identity that aligns with your brand. Throughout the process, our UI & UX designers utilize tools like wireframes, mockups, and user flows, collaborating closely with stakeholders, users, and developers. UI & UX combines User Experience Design and User Interface Design, essential for user-friendly and successful digital solutions.
By addressing users' needs, goals, and behaviors, we ensure to deliver exceptional digital experiences that captivate users, optimizing usability and aesthetics. With our expertise in UI & UX design, we create products that enhance customer experiences and solve relevant problems.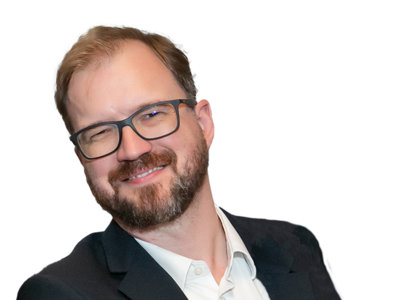 Prof. Oliver Wrede | Head of Concept & Design at dimensional, a Qvest Company
Our aim is to align the strategic demands of our clients with the preferences of the users. We transform these demands into user-friendly products, ensuring a delightful experience.
Our Key Services
Digital Product and Brand Strategy
We empower the digital product success by collaborating with customers from initial ideation to development, crafting a user-centric strategy. This ensures products tailored to users, delivering exceptional experiences and fostering brand affinity, ultimately driving sales growth.
User Research
Through rigorous user research, we gain insights into user behaviors, needs, pain points, and motivations. This allows us to analyze user interactions and tasks, laying the groundwork for identifying product issues, seizing opportunities, and enhancing performance.
User Experience (UX) Design
We fulfill users' precise needs, going beyond basic solutions. It involves delivering positive, meaningful, and relevant experiences. Applying UX Design processes allows us to create beloved solutions that users genuinely embrace and desire to use.
User Interface (UI) Design
We craft user interfaces that serve as the gateway to exceptional user experiences. Our approach involves designing intuitive, efficient, and visually appealing interfaces backed by solid research findings. This guarantees tailored solutions that truly cater to the unique needs of our users.
Additional Services
Usability Testing
To optimize your product's user experiences and interfaces, we integrate representative users into our design process. By gathering their feedback and observing their interactions with prototypes, we iteratively refine our designs until we achieve the desired user experiences.
Usability Evaluation
We can assist you by evaluating their usability to constantly optimize your existing products. Our experts will follow a methodological approach, pinpointing possible areas of improvement. Based on this evaluation, our UX designers will help you develop strategies to raise your products' usability and user experience.
Design Documentation and Handoff
To support developers in implementing the designs, we document all relevant information simply and clearly. This ensures a smooth handoff between our UX designers and the responsible developers, ultimately saving time and costs during the development process.
Design System Development
Once the initial UI & UX design process has been completed we offer to define design systems for your products and brands. These contain clear instructions regarding all essential design elements allowing for the continuous development of new features and designs.
What sets us apart – your benefits
Process design
As experts in process-related UX design, we help develop user-centric software solutions aiding the management of tasks and processes. This will allow users in complex environments to complete their work efficiently and effectively.
Technological backbone
A team of highly skilled software developers complements our UX experts. This allows for a smooth transition between design and development as the designs are influenced by technology and vice versa.
Profound expertise
Our academically qualified team has been working at a high professional level for many years and is actively involved in the development of the field. Awareness of current trends and a keen interest in knowledge is also evident in teaching and research activities related to the topic of UX & UI Design.
White Papers, Reports & Insights
Contact
Let's talk
Get in touch with our experts.