Qvest develops stunning immersive media experience space with Outernet London
How to create an impressive entertainment district in the heart of the British capital? Combine unique immersive experiences and entertainment options with shopping and office space as well as boutiques, first-class hotels and restaurants – and commission Qvest as Master Systems Integrator!
Outernet London brings together the best content partners and the latest immersive video and audio technology to create new experiences for music, arts, culture and creators. Its centerpiece is the imposing Now Building with the world's largest wrap-around LED screen installation. Qvest was responsible for the technical design of the large-scale, cross-media backbone for all venues at Outernet, as well as supplier management and integration.
Birthplace of the British music business
There is hardly any other place where so much recent British music history is concentrated: Denmark Street, only about one hundred meters long and located in the West End, is closely linked to British pop culture – since the 1950s, initially through publishing houses, and later through recording studios and music stores. This street has hosted them all: Jimi Hendrix, Eric Clapton, Bob Dylan and David Bowie. The Sex Pistols lived at number 6 and recorded their first demo tapes there. The Rolling Stones made their first album in the famous Regent Sounds studio. John Paul Jones met Jimmy Page here. It was all a while ago. Many of the recording studios, rehearsal rooms, guitar stores, live music venues, sheet music and instrument stores have gradually disappeared.
Live music back on Denmark Street
Now the pop music heartland of the British capital is being revitalized, with a new entertainment district where communities can come together and enjoy culture in stunning ways. At the intersection of the digital and physical worlds, Outernet combines the art of storytelling with the power of out-of-home and the physicality of experiential marketing – to deliver emotional, multi-sensory audience experiences and entertainment at scale. Two venues for music and other events accommodate 2,000 (HERE at Outernet) and 250 visitors (The Lower Third) respectively, bringing live music back to Denmark Street.
World's largest wrap-around LED screen installation
The centerpiece of Outernet is the imposing Now Building. Its spectacular atrium, open to the public, offers visitors an unparalleled multi-sensory experience using the latest technology – and the world's largest and most advanced wrap-around installation of LED screens. The four-story-high, floor-to-ceiling 360-degree canvas of immersive 16K screens from AOTO measures more than 2,100 square meters. From now on, the world's best artists, live acts, brand partners and advertisers can showcase themselves here with new content every day. Numerous partnerships already signed with big names in the creative industry – including the BRIT Awards, the British Phonographic Industry (BPI), the Ridley Scott Creative Group or WePresent (Arts Department of WeTransfer) – are proof of the ambitious goals. Mike Whittaker, CTO of Outernet Global: " What we have achieved with our teams at Outernet and Qvest is extraordinary and unique. It by far exceeds the usual technology solutions. Qvest's understanding for our vision, methodical approach, and knowledge transfer during the process made them the natural choice to deliver this installation. We have developed a best-in-class integrated solution that allows us to work in real time on 16K LED screens and deliver the best immersive experience to our clients and viewers."
Thomas Müller, CTO of Qvest Group, emphasizes: "What makes this project so special among our numerous international media installations is that the audio-visually spectacular implementation can be experienced by the public. Crucial for this immersive experience in the Now Building is the intelligent orchestration of all tech components behind the scenes. We are proud to have realized this unique media space for concerts, brand events, and art with our consulting and technology experience."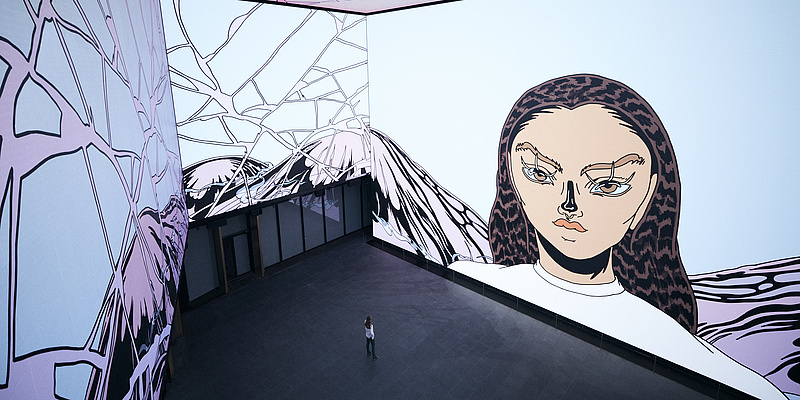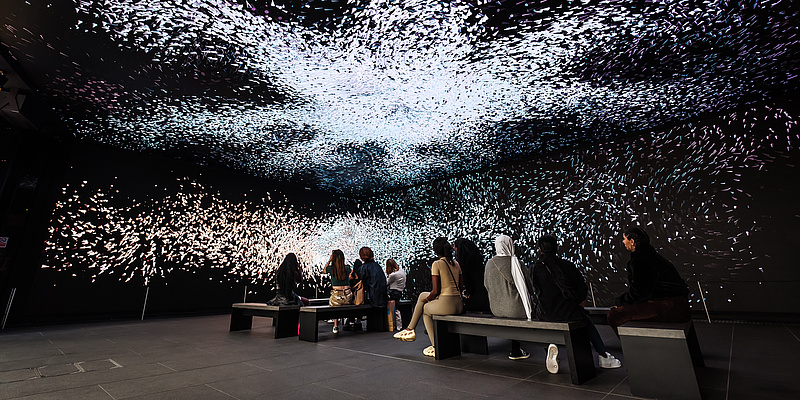 Photo: Maria Zhynikova_Red Flame Creations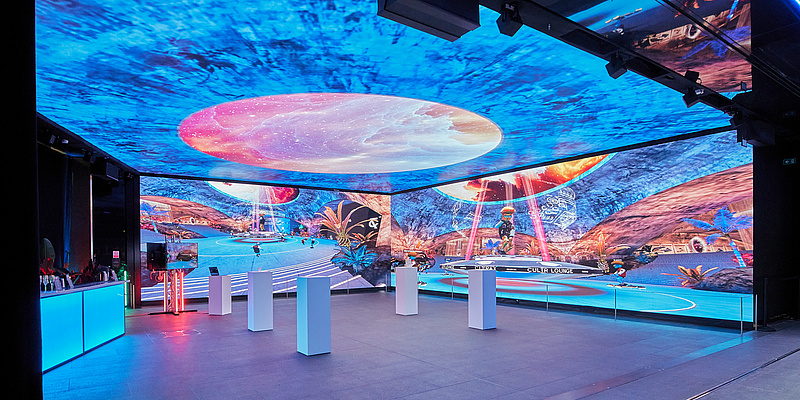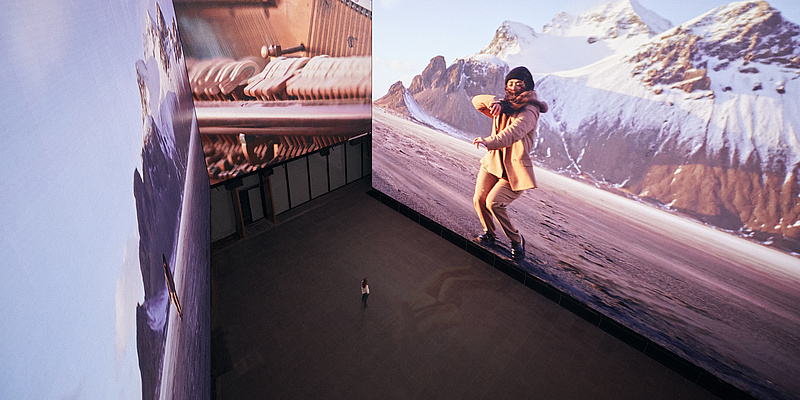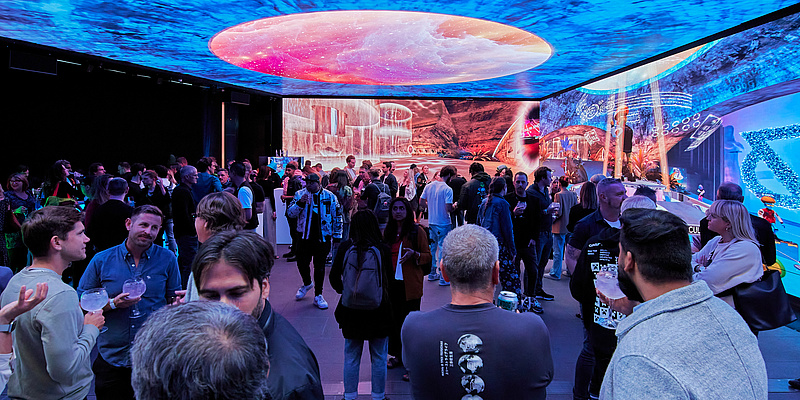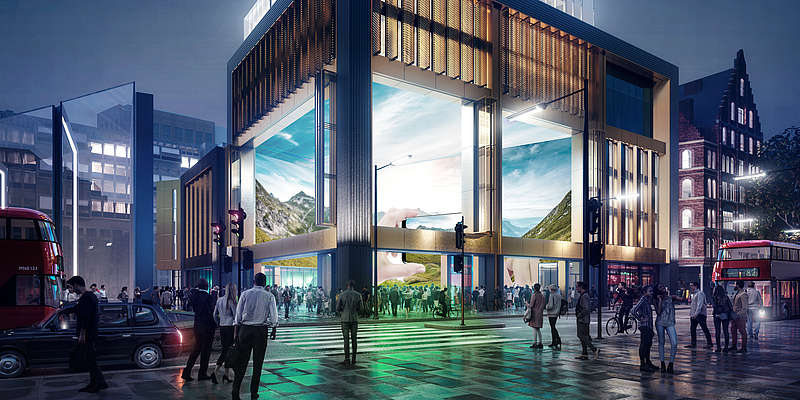 Qvest sets the pace as Master Systems Integrator
For this to work, a powerful solution is needed in the background – and a partner with the necessary technical know-how. The decisive factor in commissioning Qvest above all, in addition to a unique consulting-oriented design approach, was its internationally proven expertise in the field of media technology. As consultant and Master Systems Integrator (MSI) Qvest was responsible for the overall design and implementation of the operations and data center and its networking. This center is where the threads of the various venues on the Outernet ensemble with its more than 23,000 square meters come together. Key process steps included designing a system based on Outernet specifications; developing architectural, mechanical and media specifications; detailed rack layouts for the entire site; power, load and thermal calculations; and planning all connection points - such as for outside broadcasts, press events, event spaces, visitor connectivity and touring racks.
The aspiration? Entertainment on a whole new level!
Outernet wanted to create an event space where music, film, art, gaming and retail come to life in a new, breathtaking way. To make this possible, top products and solutions from renowned tech companies were chose. In addition to AOTO's LED screens and 64K controllers, systems used include those form QSC Q-SYS (network audio system), L-Acoustics L-ISA (immersive sound system), MEDIAGENIX WHATS'ON (planning), Lucid Rocketship (automation and live control), Ventuz hardware and software (real-time graphics content creation and playout), Dell/EMC (storage solution), and Cisco (IT network). In the operation center, staff monitor the correct playback of audio and video content in the various areas of the building. All relevant applications are displayed on LED monitoring walls using the Barco OpSpace system. Qvest coordinated the installation, testing and system integration of the key elements of the media infrastructure defined by Outernet.
Mike Whittaker: "We are extremely happy that all residents and visitors to London's center for culture and creativity can enjoy this unique space which is spectacular in many ways." Some special events have already taken place using the high-powered media infrastructure for breath-taking productions - such as the Blue Moon Gala celebrating UNICEF's 75th anniversary, the Paramount+ launch event for the UK or CULT&RAIN's fully interactive metaverse CULTR WORLD.
The Now Building has fully opened to the public on November 1, 2022. It is expected to be visited by up to 50 million residents, commuters and tourists annually.
Contact
Let's talk!
Get in touch with our Experts.
---