How Asharq News sets standards in news workflow
Published 15. September 2021
Collaboration, flexibility and efficiency as the focus of the multi-platform broadcaster from Dubai
Leading the way instead of following beaten paths: a groundbreaking system design that combines cutting-edge technologies and organizational workflows, makes the new 24/7 live news platform Asharq News a pioneer for business and financial news in the Arabic-speaking world. Qvest trimmed the entire news workflow for Asharq News' editors for flexibility and efficient, location-independent collaboration capabilities.
The scope and performance of the full-IP infrastructure are unprecedented in the MENA region. Cloud solutions for content aggregation, production and distribution also set new standards.
New full-IP infrastructure for multi-platform TV station
Asharq News' media center covers 5,300 square meters and four floors of an office complex with a central data center in the Exchange Building in Dubai's financial district. The new system design as well as the integration of the entire media infrastructure was handled by Qvest. The technological focus was particularly on the planning and integration of a full-IP infrastructure based on SMPTE ST 2110 and a hybrid architecture of virtualized on-premises systems and cloud solutions. This enables Asharq News to continuously adapt to technology changes and innovation leaps or changes in user behavior. As general contractor, Qvest was also responsible for vendor management. For this, Qvest orchestrated the most suitable tech solutions for Asharq News from more than 25 vendors, which are networked to create a seamless live workflow.
This makes Asharq News one of the most modern multi-platform news stations in the MENA region. In its media center, Qvest has integrated the postproduction area as well as the broadcast operation with central control rooms, playout and network control on four floors. On the three upper floors, in addition to the archive and three studios, further generously dimensioned areas were created in which social media and radio content is produced. The technology that Qvest has integrated into the newsrooms is fully geared toward a story-centric news production approach. This means that the content produced by media professionals is not dependent on the distribution platforms of TV, radio, online and social media. For example, breaking news can be published across all distribution channels and automatically optimized for a wide range of devices.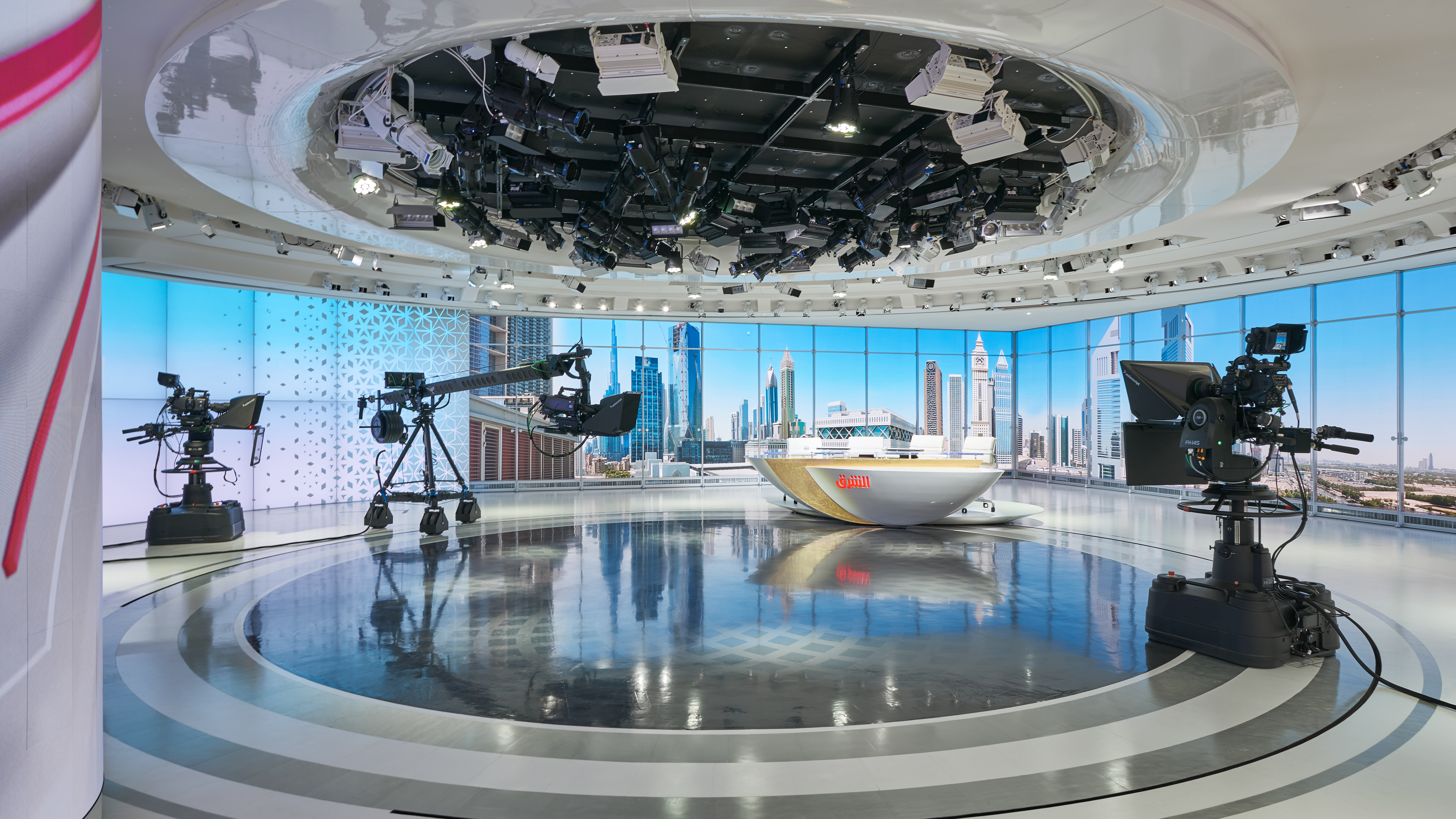 Time-lapse video
Watch the realization of Asharq News in time-lapse video
Open design with unique backdrop
In addition to technology, Asharq News is also setting trends in building and studio design. Using curved LED walls and floor displays from Barco, Qvest has created a unique digital backdrop with a total area of more than 300 square meters. Together with LS Research, Qvest's chosen technology partner for custom solutions, the automatically motorized movable LED walls were created in the central studios. In the background of the central staircase, stock tickers and headlines run on LED strips. All studios are characterized by a light-flooded, open room design. A total of over 700 individually controllable LED luminaires with variable color temperature ensure a consistent and pleasant illumination at any time of day. The largest of the three studios in Dubai features an LED backdrop that replicates a deceptively realistic, large panorama window and strikes with a virtual view of the Dubai skyline.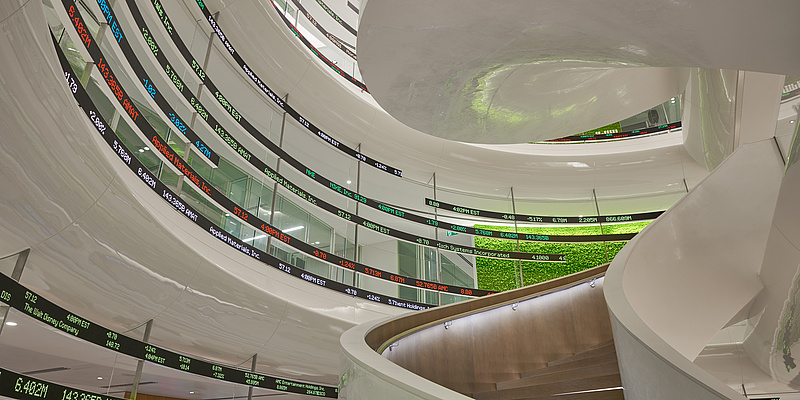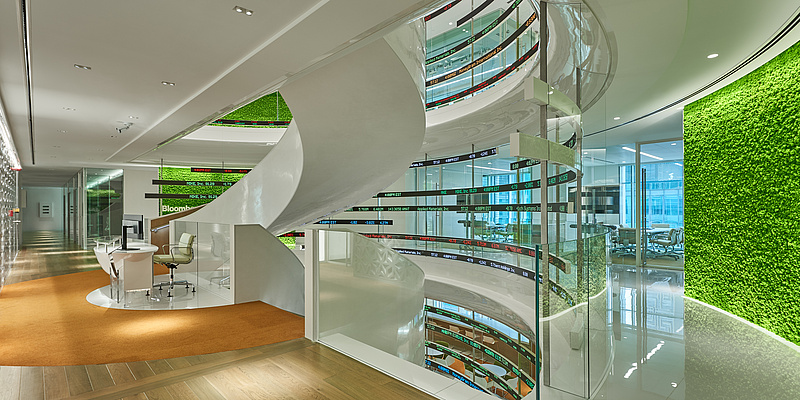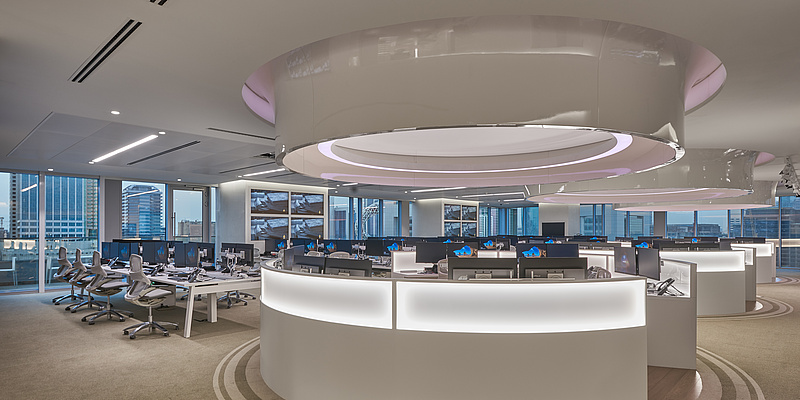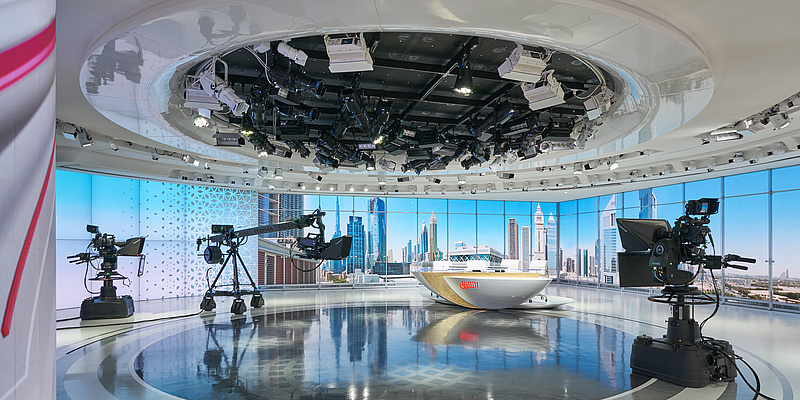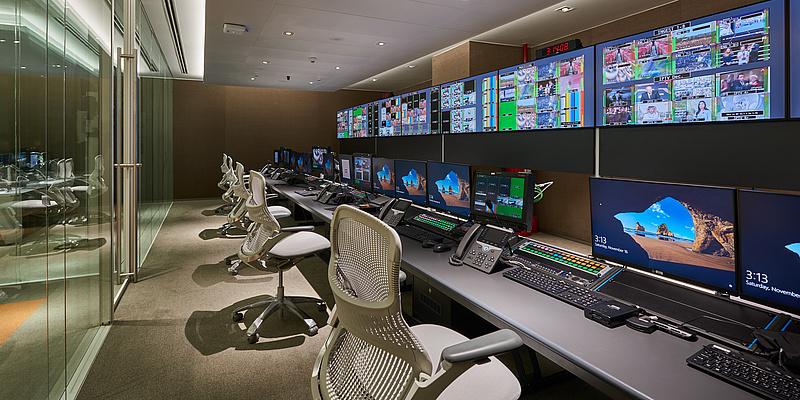 Extensive collaboration opportunities
Especially with the consistent use of innovative technologies such as virtualization & cloud computing, full-IP networks and smart research and collaboration tools, Asharq News is now able to produce high-quality, up-to-date news very quickly from the distributed knowledge of journalist networks and news agencies.
Along with the three studios of Asharq News in Dubai, Qvest has also equipped the remote studio in the Saudi Arabian capital Riyadh with state-of-the-art media technology. This studio is connected to the two control rooms in Dubai via a 2-GBit/s high-speed leased line. As a result, Asharq News is able to remotely control all studios from Dubai via the central control rooms.
Future-oriented full-IP implementation
Asharq News' network architecture, established with Qvest, is the first complete end-to-end full-IP infrastructure of this scale in the MENA region, in which components from all manufactures are controlled via the industry standards SMPTE ST 2110, NMOS IS-04 and NMOS IS-05. Thanks to the full-IP structure, Asharq News benefits from lean operating processes as well as high adaptability and scalability of the production workflow.
The fiber-based backbone network has 100 Gbit ports and thereby offers sufficient bandwidth for a possible UHD/4K upgrade of the production infrastructure. It is fully redundant according to the SMPTE 2022-7 standard and thus fail-safe. The fully SMPTE ST 2110-compliant broadcast chain, with Pebble Beach's broadcast automation as the central element, takes full advantage of a modern IP environment. The audio-over-IP implementation is based on Dante at its core and can be extended with numerous vendor solutions through the open AES67 standard. The broadcast and seamlessly integrated corporate IT network consists of standard network components such as those from Cisco. This is used for communication between the nearline storage and the fully virtualized backend servers. Editing suites and office components such as audio-over-IP telephony and printers use the same network. A carefully planned IT security concept using firewalls, policies and endpoint authentication ensures the necessary operational security.
Innovative cloud management underneath the surface
To accelerate digital news production, Asharq News uses the cloud application management and orchestration platform qibb. As a central integration layer, qibb integrates all external news agencies into the production workflow. Using qibb, internal content distribution is orchestrated via Asharq News' docked production tools: the Avid iNEWS newsroom system, the Avid MediaCentral | Cloud UX production platform, and the x.news and Burli NewsHub research tools. Since all agency reports are aggregated centrally using qibb, it can be efficiently clustered and routed to the responsible member of the editorial team. Thanks to the integration of qibb by Qvest, Asharq News can quickly and flexibly adapt to new requirements in news production and, for example, integrate additional agencies or research tools.
To ensure that news content can be prepared for all channels, the automated workflow is based on modular software components according to the best-of-breed principle. In this way, the news channel benefits from the best industry solutions in each case: Vizrt for the AR- and VR-enabled real-time graphics solution, Telestream for transcoding, Interra Baton for the automated quality check, x.news for efficient cross-platform news research in social media channels and via agency tickers, social media video publishing with Wildmoka, HMS for compliance recording, Pebble Peach Dolphin for ingest and TX playout, and DIVA for archiving.
Future-proof news and postproduction workflow with top tools
Avid contributes several software components and forms the backbone of the news workflow with its MediaCentral platform. The core elements for news production in the four newsrooms at Asharq News consist of Avid MediaCentral | Media Asset Management (MAM), Avid MediaCentral | Production Asset Management (PAM) and Avid MediaCentral | Newsroom Management. For the media assets, 324 terabytes were available in Avid NEXIS production storage at the start of the broadcast, which is mirrored in real time for resilience and can be scaled up to 3 petabytes on the fly. Additional scaling can be applied seamlessly and non-disruptively to the production environment as needed via NEXIS | Cloudspaces.
The unified user interface of the Avid MediaCentral | Cloud UX workflow platform makes all assets, such as graphics, video and audio clips, available to Asharq News specialists at all 250 HP workstations. This also applies to editors working in the studios in Abu Dhabi, Cairo and Riyadh. Feed ingest can also be controlled at the workstations, and finished clips can be passed to Pebble Beach's TX playout system. High-performance HP Xeon-based workstations are available in-house for video editing. Editors can choose between Avid Media Composer with integrated Newscutter option and Adobe Premiere Pro, whose users can access the asset pool within Avid infrastructure via Avid MediaCentral | Panel for Adobe Premiere Pro. Mobile HP ZBooks are available to editors producing remotely from the scene. If needed, Asharq News can freely scale additional editing suites in the cloud using Avid Edit on Demand.
Cloud technologies for failure safety
When it comes to failover, Asharq News now also relies on cloud technologies thanks to Qvest. The complete on-premises software environment is distributed across more than 80 VMWare ESXi-based virtual machines. This way, server performance in the data center is optimally utilized and failure safety is ensured. All local Avid MediaCentral | Cloud UX servers are additionally secured and work with container structures, as they are also used in the cloud. The Docker software platform and the Kubernetes cluster manager were linked together for this purpose.
Kubernetes is installed on all Cloud UX servers and, with the help of so-called pods, forms a further instance with which the containers can be controlled and orchestrated into clusters. Thereby, redundant structures of complex clusters can be created in a very short time. If individual pods fail, they are automatically restored in the shortest possible time.
The strong project focus of Qvest and the Dubai-based broadcaster on location-independent collaboration was a key success factor in several respects. In this way, even the strict social distancing measures during the COVID-19 pandemic were adhered to, so that the extensive training and education of the several hundred employees could be implemented on schedule.
Contact
Let's talk
Get in touch with our experts.
---