IP-based media infrastructure for WELT
Axel Springer SE relies on SMPTE standard ST2110
In the digital age, information is available anytime and anywhere. This changes the demands on professional reporting: journalists today have to work under much greater time pressure than in the past, without accuracy, objectivity or comprehensibility suffering. In order to meet these demands, Axel Springer SE has built a completely new media center with state-of-the-art technology for its news channel WELT – with two news studios that are far ahead of their time.
Qvest was responsible for planning and implementing the future-proof, flexible IP infrastructure. It is designed to be scalable, open for extensive expansions – and marks a new level in broadcasting.
Customer
WELT / Axel Springer SE
industry
// Broadcasting, News
Qvest Services
// Technical Consulting
// Systems Integration
The future always in sight
With their high degree of flexibility and automation, the new news studios are among the most modern in Europe. Everything here is designed for efficient workflows and contemporary information delivery – network architecture, IP-based connections, mixerless workflow, IP-based lighting, self-sufficient camera movements, studio feeds in different directions, mobile LED walls (also in the on) and a full-surface 30-meter LED cyclorama in the background.
Transition from SDI to ST2110
After the successful move from SDI to the SMPTE standard ST2110, WELT now has one of the most innovative platforms for news broadcasters that is open to further technical developments. "The components are designed to harmonize with each other also in the future – for example after possible extensions. This already applies to the integration of the new BILD Live studio. Production is planned here to start in 2022," says Norman Tettenborn, Principal and Project Manager at Qvest.
Facts
Project duration: 3 years

Integrated vendors: Aoto, ARRI, Black Box, ETC-Europe, Grass Valley, Lawo, Nevion, Octopus, Shotoku, Sony, Vizrt, etc.
Services
WELT news studio (real, fully automated) 

Multifunction studio (VR, real, fully automated) 

Automation: LED walls, robots, lighting, graphics, video 

Mixerless workflow

ST 2110 environment (COTS, NMOS) 

News postproduction

MCR, sat, IPTV 

90% of all cables used for network connections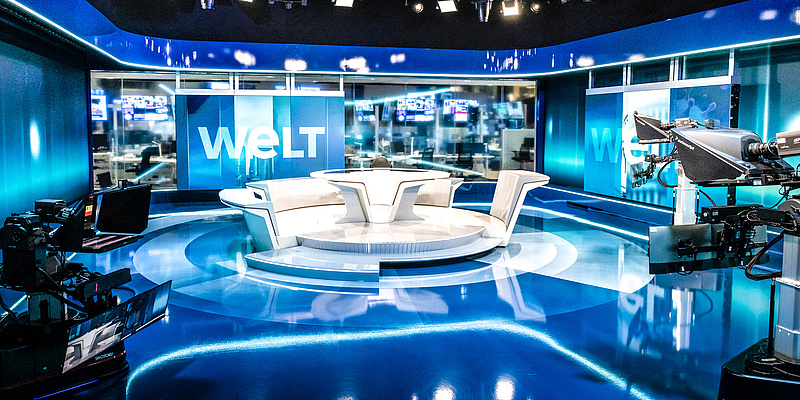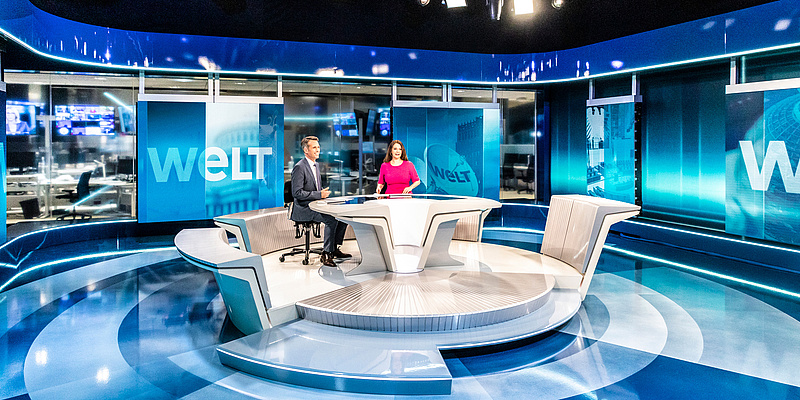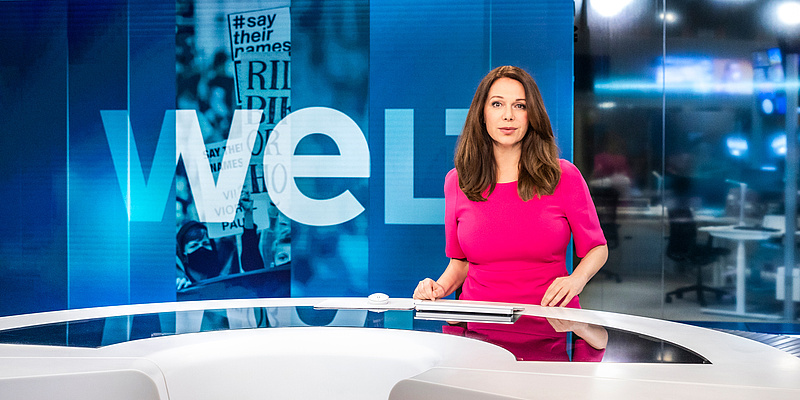 Contact
Let's talk
Get in touch with our experts.
---