Published 7. December 2022
What it takes to both make news and make money in times of digital disruption
News providers have been particularly impacted by digital disruption and the rise of social media platforms. They have to deliver news content across multiple channels, and each time tailored to the vernacular and style of that particular platform.
Read the following DPP report "The News Business" to find out what it takes to both make news and make money under these circumstances. This business insight is part of the DPP's "Tomorrow's News" project sponsored by Qvest. Its content has been gathered through research, workshops and interviews with subject matter experts working across the news industry.
Delivering news content across multiple channels, tailoring it for each platform each time, is difficult enough in itself. But it is only half of the problem...

How are news organizations expected to make money from this model? Which also raises the question of whether a reputable news service should be profitable? To find out what approaches media companies are taking to generate revenue from news, contributors from Europe, the US and Australasia were asked to share their insight and expertise. Read what experts like Conor Molumby (Reuters), Lucy O'Brien (EMG), Maral Usefi (VICE Media), Morten Brandstrup ( TV2 Denmark), Nathalie Malinarich (BBC News), Thomas Grandoch (Qvest) and many more say.
The competitors? Anyone with a smartphone!
The news industry has been observing a power shift from traditional news organizations towards platforms and consumers. Many publishers have strong traditions and principles of independent, objective and impartial journalism. But it is obvious that tried business models of the past no longer work amidst the digital disruption that is primarily driven by trends in mobile technology and social media.
Today, the competition is anybody with a smartphone and access to the internet. This means how news is made, and what news is delivered has to be different. Kamal Ahmed, the former BBC News Editorial Director and now co-founder and Editor-in-Chief at the news startup, The News Movement, describes the challenge:
"People aren't coming to destinations for the news, they're seeing the news in their feed. So we're no longer competing with each other; we're competing with anything you can do on your mobile phone, or any other type of screen. And that means that our content approach is going to have to change."
"We have to be everywhere"
In July 2022, the UK communications regulator Ofcom released its News Consumption in the UK 2022 report. It revealed an increasing relevance of social media as news sources. For the time being, though, television is still the main source of news in the UK. As Nathalie Malinarich, Executive News Editor, Digital, at BBC News put it:
"We have to be universal, and that means being everywhere."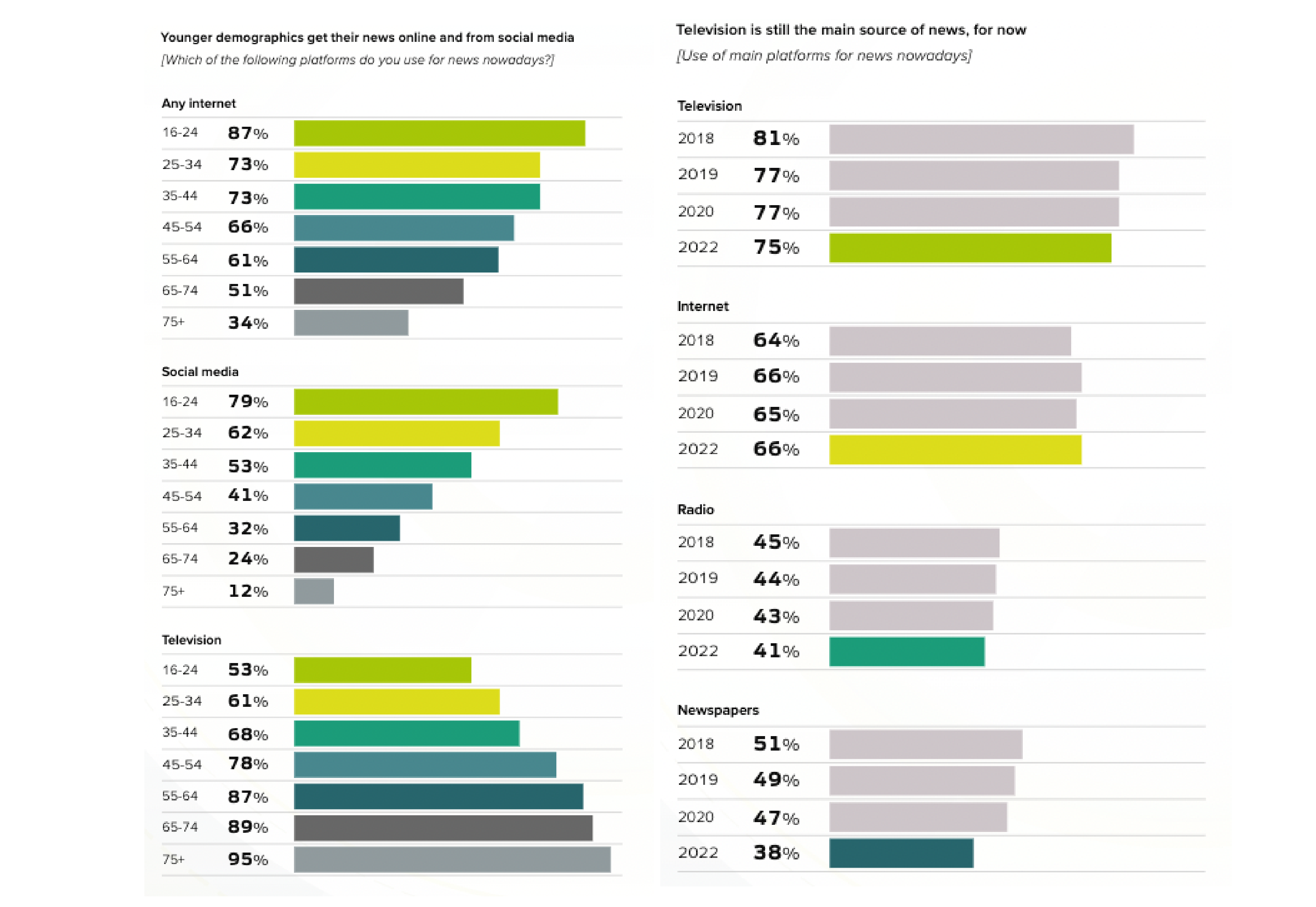 Ofcom, News Consumption in the UK: 2022
It's all about diversification
Diversification of revenue streams is the most cited strategy when it comes to running a successful modern news operation. News providers need to know which revenue models work on which channels, in the same way that editorial leaders are learning how content types need to change across platforms.
Maral Usefi, VP Editorial Operations & Executive Producer, News at VICE Media says that this is "an attempt to find the largest swathe of revenue opportunities". Sandy MacIntyre was VP News at the Associated Press, and now works as an independent advisor to news organizations. With a consultant's view across different news providers – whether commercial, agency or those with a public service remit – he is able to summarise the approach with a bluntness not afforded to others:
"All of us have got loads of hooks in the water, and we're all going fishing"
FAST-stream to success
FAST (free ad-supported streaming TV) channels have become one of the VICE's top priorities for the coming year. Again, the company's Maral Usefi explains how rolling out a FAST news service is an experiment in topical content types as much as it is an exploration of how to make money from news:
"We already have a FAST channel for a lot of our library content, and we are launching another FAST channel for news. The FAST channel is really early on in the game, and it's not immediately going to make us a lot of money on the front end. But we are hoping that it's a place where we can debut new content, and even put premium content there in the next 4-5 years."
VICE see that as an opportunity, and they want to get into that space early on. Part of figuring out FAST is figuring out what works on FAST. There is not a lot of data to work out whether, for example, typically 'linear' content works on FAST? Or is it more the 'digital' content drawing viewers to FAST?
Others point out that the real innovation is taking place in the Connected TV (CTV) market: It's the combination of CTV, FAST business models and a level of maturity in the technology advertising stack which is enabling a new way of doing what news broadcasters have done for years: serving ads to viewers.
Longform is where the money is
The popularity of shortform video has been one of the biggest consumer news trends, driven by social media on mobile platforms. While there is money to be made in 'snackable' shortform video, ITN Productions Head of News & Archive, Tami Hoffman, says the revenue opportunities for shortform video are not predictable enough to build a business around:
"Shortform news revenue shares are too dependent on the vagaries of the platform and their algorithm. One of the challenges that we've got is that if you're only relying on shortform, revenue share type models can be lucrative, but it's variable and it's quite to hard to build a business around that."
So for all the hype around shortform video, it's longer form features where many news companies and DPP members are generating revenue.
Thomas Grandoch Principal - Australia and New Zealand
In times of war, fake news and coronavirus, people understand the benefits of 'traditional' news.
For Thomas Grandoch, Senior Business Consultant at Qvest, this is the value of being a trusted news provider. Consumer trends will continue to impact news consumption, but the value of trust and integrity of traditional news providers in times of crisis will increase:
"Snackable news was a result of the rise of social media content being a competitor to traditional journalism. So news brands all tried to play in that field, adapting the language of this kind of media – and this is still relevant and necessary.
But people now understand the benefits of traditional news. They understand why in times of fake news, in times of war, and in times of coronavirus that it makes sense to look at traditional media houses, which have built up their reputations for maybe 100 years for print, and 50 years for TV or radio.
People look to those sources to get trusted news, and get the validation of what is true and what is fake."
As consumers look to established news brands as their main source of information in times of crisis, it plays into the areas where experienced news operations have expertise. Those are areas such as longform content and the integrity associated with linear news bulletins, an area where those companies also know how to make money.
Get this report
Would you like to learn more?
Enter your data here and click on "Download now". You will receive a download link to your email address afterwards. Please note that the delivery may take a few minutes.
Request instant free download access to the full report
---